Official rebuts `defense myths' in letter to `WSJ'
GET IT RIGHT Eddy Tsai, an official from the Taipei Economic and Cultural Representative Office, said Taiwan has been wrongly accused of provoking China
Staff Writer, with CNA, Washington
Taiwan is fully committed to upholding both its defense and democratic ideals in the face of a military threat from China, a Taiwanese official in the US said yesterday.
Director of the Press Division at the Taipei Economic and Cultural Representative Office Eddy Tsai said the stability and security that the US brings to the Asia-Pacific region by selling arms to its allies and by taking a firm stand for freedom sends a message not only to China, but also to others who question the US' resolve to stand up for democracy overseas.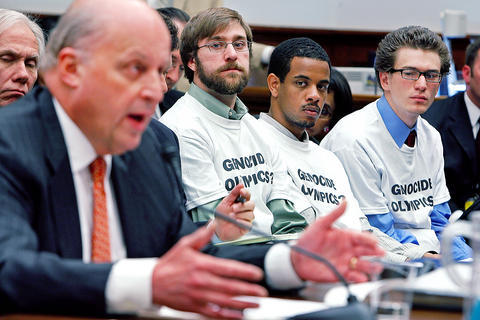 Wearing T-shirts that read ``Genocide Olympics?'', John Bagwell, left, Dawit Beru, center, and Max Croes, right, look on as US Deputy Secretary of State John Negroponte testifies before the House Foreign Affairs Committee during a hearing on relations with China on Capitol Hill in Washington on Tuesday. Committee members expressed concern over China's human rights record and its military posturing over Taiwan.
PHOTO: AFP
"Suggesting that it may be better to abandon Taiwan's 23 million citizens to the tender mercies of Beijing serves only to dilute this message and increases the chances of miscalculation," Tsai argued in a letter to the editor printed in the Wall Street Journal.
The letter, titled "Three Myths About Taiwan's Defense," was a response to an April 23 article titled "Taiwan's Free Ride on US Defense," written by Ted Galen Carpenter, vice president for defense and foreign policy studies at the Cato Institute.
Carpenter claimed that the Taiwan legislature's reluctance to pass a special budget for arms procurement from the US "leaves America in the unenviable position of having an implicit commitment to defend a fellow democracy that doesn't seem especially interested in defending itself."
Tsai said that Carpenter's argument was based on three "regrettable myths" about Taiwan's defense situation, namely that Taiwan's defense investment continues to shrink as China's rises, that Taiwan seems intent on starting a war with China through provocative policies, and that the long-stalled arms package would have been passed by now if Taiwan were still an authoritarian party-state.
He noted that Taiwan's defense budget will increase from 2.2 percent of its GDP last year to a proposed 2.85 percent this year and to 3 percent next year.
Citing a report released last year by the US Congressional Research Service, Tsai said Taiwan received US$13.9 billion in arms deliveries from various sources between 1998 and 2005, making it the third largest such recipient among developing countries.
Also, much of Taiwan's defense budget has been spent on expensive military software that often costs even more than missile hardware the country purchases, Tsai said.
Concerning Taiwan's "provocative" cross-strait policies, Tsai said that Taiwan had tried to reach out to China with initiatives such as a proposed demilitarized zone along the middle of the Taiwan Strait, confidence-building measures to avoid miscalculation, and direct charter flights.
He said the standoff over the procurement bill was testimony to the commitment to democracy: "Long gone are the days when an authoritarian government in Taipei could pass laws by executive fiat regardless of political opposition."
Comments will be moderated. Keep comments relevant to the article. Remarks containing abusive and obscene language, personal attacks of any kind or promotion will be removed and the user banned. Final decision will be at the discretion of the Taipei Times.