Newsmaker: Champ says playing go is his life
Chou Chun-hsun (周俊勳), fresh from winning his first world go title in Seoul, South Korea, says the subtle board game known as wei-chi in Mandarin, is his whole life.
Chou, the only Taiwan-nurtured go player to rise to the professional game's top tier -- ninth dan, or level nine, captured the 11th LG Cup on Thursday after beating Chinese player Hu Yaoyu (胡耀宇) 2-1 in a best-of-three final.
The victory, bringing him 250 million Korean won (US$266,421) in prize money, was not only Chou's first world title but also marked the first time a home-grown player has ever won a world title for Taiwan.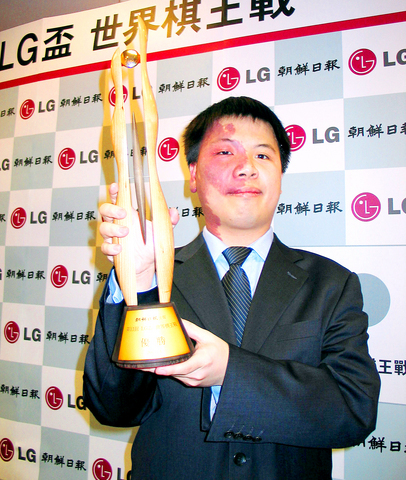 Taiwanese go player Chou Chun-hsun yesterday holds up his trophy in Seoul, South Korea, after winning the world championship.
PHOTO: CNA
Another Taiwan-born go player, Cho U (張栩), won the coveted LG Cup two years ago, but he was representing Japan.
After emerging victorious, Chou said he hoped that his win would galvanize other Taiwanese go players to pursue excellence and win more world titles.
Chou, 27, started learning how to play go with his father at the tender age of six finding joy in the intellectually challenging game.
During his elementary school years, playing go was a major source of comfort for Chou, who was often mocked by classmates because of the prominent scarlet birthmark on his face.
Over the years, Chou learned to ignore comments about his birthmark while cultivating the concentration and precocious calm which have helped him to the top rank of the tree in the highly competitive game of go.
During his formative years, Chou recalled in a recent interview, he chose an energetic way to work off his frustrations.
"When I was a junior high school student, I ran for three hours every day, circling the school's sports ground about 70 times and covering some 28km," he said.
This punishing exercise regime may have helped give him the stamina to endure lengthy go competitions.
Chou won his first go title in a competition organized by Japan Asia Airways in 1989 when he was a third grade student. At 12, he was crowned national champion and represented Taiwan at major international tournaments before becoming a professional go player at the age of 14, the youngest at the time.
Unlike other Taiwan-born go players, Chou has not moved abroad to face tougher competition in Japan, instead staying in Taiwan and representing his country for the past 10 years at major international tournaments.
As a footnote to his go career, Chou once said: "For me, my birthmark is a blessing in disguise. I have come to believe that no matter how arduous or challenging life may be, there will be a way forward. No one should belittle his or her potential. Where there is a will, one can always reach for the stars."
Chou advanced to seventh dan in 1997 and finally reached ninth dan in 2000.
In the pursuit of excellence, Chou went to China to study go with renowned masters of the game such as Song Xuehlin (宋雪林). He was the first Taiwanese go player to travel alone to China to perfect his go skills and took part in its rank-grading competition.
Comments will be moderated. Keep comments relevant to the article. Remarks containing abusive and obscene language, personal attacks of any kind or promotion will be removed and the user banned. Final decision will be at the discretion of the Taipei Times.