Ma adamant on '1992 Consensus'
The deadlock in cross-strait relations can be solved if Taiwan abides by the "1992 Consensus," Chinese Nationalist Party (KMT) presidential hopeful Ma Ying-jeou (馬英九) said yesterday.
Ma also restated his proposal that Taiwan and China sign a truce and said he would work toward that goal if elected.
The nation should only sign such a truce if China removes all missiles targeted at Taiwan, Ma said in a speech at the Society of Strategic Studies in Taipei yesterday.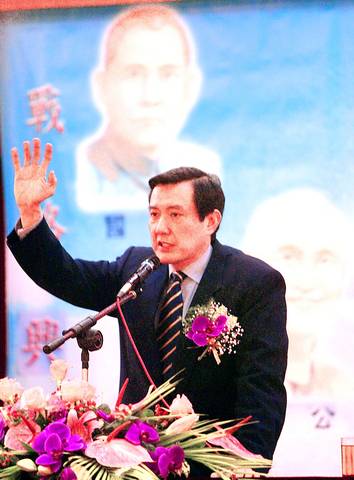 Chinese National Party (KMT) presidential hopeful Ma Yi-jeou gestures while giving the opening address at the 28th meeting of the Society of Strategic Studies in Taipei yesterday.
PHOTO: CNA
Ma told the audience that China posed a threat, but was also a door to new opportunities, and said it was therefore crucial for Taiwan to find a balance between the two.
"With more than 1,000 missiles aimed at Taiwan and warplanes along the coast, China is certainly a threat ... on the other hand, it also provides us with unlimited opportunities," Ma said.
China's growing economy represents unlimited opportunities to Taiwan, he said, adding that in the last year, business transactions between Taiwan and China amounted to a total of US$100 billion.
"We have to minimize threats and maximize opportunities, which cannot be achieved through conflict" he said.
The first step in avoiding conflicts, Ma said, was to recognize the "1992 Consensus."
"We have to actively work to improve our relationship with China ... and our future negotiations with China. We cannot break the 1992 Consensus," Ma said.
The KMT says that, at landmark talks held between Taipei and Beijing in Hong Kong in 1992 -- when the KMT was in power -- the two sides agreed to respect each other's interpretations of the "one China" principle.
This agreement has been termed the "1992 consensus" by the party.
However, Beijing says that Taiwan and China both agreed to adhere to the "one China" principle in 1992 and insists that Taiwan accept the principle as a condition for resuming cross-strait talks.
The Democratic Progressive Party insists that the "1992 consensus" does not exist.
February last year, KMT Legislator Su Chi (蘇起), then Mainland Affairs Council chairman, admitted that he created the term in 2000, shortly before President Chen Shui-bian (陳水扁) was inaugurated, with the aim of giving the two sides of the Taiwan Strait a "basis for dialogue."
Ma yesterday said that Taiwan's recognition of the "1992 Consensus" would increase regional stability and encourage business developments.
"Under the concept [of the 1992 Consensus] ... the two sides can sign a truce valid for decades at the least, so that Taiwan and China can continue to increase relations in peace," he said.
On the issue of the economy, Ma said he wanted to pursue a laissez-faire policy to increase cross-strait exchanges in trade, tourism, and investments, until "both sides eventually comprise a common market."
Additional reporting by CNA
Comments will be moderated. Keep comments relevant to the article. Remarks containing abusive and obscene language, personal attacks of any kind or promotion will be removed and the user banned. Final decision will be at the discretion of the Taipei Times.