Feature: Pigs not the most practical pets, activists say
Pet trends come and go in Taiwan.
Model Lin Chih-ling's (林志玲) poodle "Coffee" created a boom in that breed, just as the heartwarming Japanese movie Quill, featuring a Labrador puppy that became a guide dog, led many Taiwanese families to purchase Labradors despite their demanding upkeep. However, some Taiwanese are bucking the trend and getting pets that are more porcine than canine.
A pet owner, surnamed Tang who has cared for two miniature pigs for the past three years, extolled their virtues.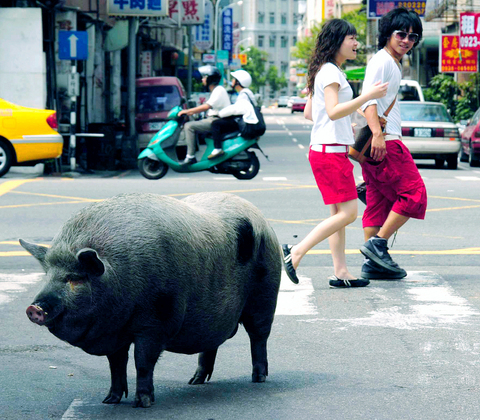 Pudding, the pet pig of a scooter shop in Taichung, attracts some attention while taking a stroll outside in a picture taken on Aug. 17. Now a year old and weighing more than 100kg, Pudding also serves as the shop's watchdog and has chased workers coming to collect discarded parts for recycling, thinking they were thieves.
PHOTO: TSAN CHAO-YANG, TAIPEI TIMES
"They're clean, they don't smell like dogs, they don't bark like dogs, and they're very affect-ionate," Tang told the Taipei Times.
However, there are many potential pitfalls in store for the would-be miniature pig owner -- buying a pig should not be a decision entered into lightly.
English Teacher Peter Dearman was on his way to a convenience store in Tianmu when he was struck by an usual sight -- a tiny striped porcine creature stranded in the traffic.
After chasing the little pig down, Dearman's students named her "Heather," and he entrusted her to the care of Animals Taiwan, making her the animal welfare organization's first porcine rescue.
Animals Taiwan was founded a year ago by Sean McCormack, who resides in Taipei. The animal-rights group advocates "no killing," which means that no animals are euthanized unless they are suffering or terminally ill.
McCormack and his team has put up posters of "Heather" in the hope that her real owners will come forward. However, he conceded that Heather had probably been abandoned by owners who realized that she was not a true miniature pig, but rather a very young female formosan wild boar that will grow to more than 120kg.
"Look at her, it's like she's wearing little high heels," McCormack said .
Indeed, Heather was skittering around the yard on her slim trotters, sniffing, with surprising delicacy.
She is about the size of a sturdy, barrel-shaped York-shire Terrier right now.
"She loves to sniffle and roll in my clothes. She went missing for a while and I found her hiding ... she had buried herself in my laundry," McCormack said.
McCormack is adamant that he would not let Heather be sold for meat.
"It's not an option. I'm not against eating meat per se, but once an animal comes into our care, they're safe," he said, adding that Heather is still looking for a home.
Liu Yin-Cheng (劉尹晟), a veterinarian from the Amazon Animal Hospital, estimated that Heather would be worth NT$2,000 to NT$3,000 as a meat animal.
"I saw a lot of cases of unscrupulous pet dealers passing off ordinary baby pigs as miniature pigs a few years ago, but demand [for miniature pet pigs] has been catching up with supply recently," Liu said.
Liu quotes a reasonable price for a true miniature pig from a reputable dealer at around NT$10,000 to NT$ 20,000, depending on condition and lineage.
Liu also scoffed at the myth that one can keep pigs petite by feeding them less.
"The pig's eventual size is determined by genetics," Liu said. "You can't keep it small by starving it."
Liu warned against unreasonable expectations that a miniature pig will stay a piglet forever.
"I've seen mature minipigs ranging from 30kg to 50kg," he said.
"If you're still wondering whether a pig is right for you, don't have one," advised a former miniature pig owner, who wished to remain unidentified.
"It's just like having a child around all the time. They're smarter than dogs, and more demanding," the former hog owner said.
Comments will be moderated. Keep comments relevant to the article. Remarks containing abusive and obscene language, personal attacks of any kind or promotion will be removed and the user banned. Final decision will be at the discretion of the Taipei Times.