Billiards star Jennifer Chen missing
ON THE RUN? The former female World number one is rumored to be hiding out in Hong Kong after running up enormous debts gambling on baseball and soccer games
Billiards player Jennifer Chen (陳純甄) has reportedly gone missing after allegedly running up huge gambling debts.
"We have been unable to contact her. Chen has missed three preliminaries for the 2006 Asian Games. She is now unable to represent the nation at the Asia Games," the head of the Taiwan Billiards Association Tu Yung-hui (涂永輝) told the press yesterday.
The 30-year-old billiards star, nicknamed "Beautiful Baby", reportedly lost nearly NT$20 million (US$608,800) gambling on professional baseball games in Taiwan and US Major League Baseball, and around NT$10 million on this summer's soccer World Cup.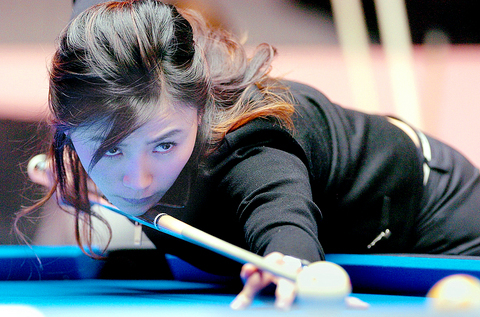 Billiards player Jennifer Chen concentrates on her next shot in this photo from March 2.
PHOTO: LIAO CHEN-HUEI, TAIPEI TIMES
Local media such as SETV and ETTV reported that Chen had fled Taiwan and was in hiding in Hong Kong trying to evade bookmakers who are trying to recoup their money.
Although gambling on sports is illegal in Taiwan, it is rampant and often run by gangsters.
"I am worried about my daughter's safety. I do not know where she is and can't contact her," Chen's mother said on a news clip broadcast by FTV yesterday.
She said she was worried that her daughter might have been kidnapped by gangsters.
"She never told me anything about gambling," she said.
Billiards coach Chang Ming-hsiung (張明雄), who has known Chen for ten years, yesterday told the press he does not believe Chen gambled and owed such vast sums.
"Chen is a good girl, and the gambling allegations are rumors," Chang said.
Chen came to prominence in the 1990s, claiming the Women's Professional Billiards Association's world number one ranking in March 1999.
Chen won a bronze medal for billiards at the 2001 World Games and a silver medal in last year's World Games.
Apart from her sporting achievements, Chen has also appeared on a number of TV entertainment shows.
Comments will be moderated. Keep comments relevant to the article. Remarks containing abusive and obscene language, personal attacks of any kind or promotion will be removed and the user banned. Final decision will be at the discretion of the Taipei Times.