Journalist sues after court scuffle
HAZARDOUS DUTY? A television cameraman who was arrested and accused of assaulting a police officer said that he was innocent and was beaten while in custody
A minor scuffle between police and journalists trying to cover the release of a high-profile corruption suspect on Monday has turned into a legal showdown between the government and a TV cameraman detained by police at the scene.
During the incident on Monday afternoon, a number of court police attempted without much success to fend off members of the press at the Taipei District Court, as the reporters chased the president's son-in-law, Chao Chien-ming, (趙建銘) as he exited the court building and got into a taxi.
As the press and police officers pushed one another in the chaos, Sanlih Entertainment Television employee Chu Wen-cheng (朱文正) was grabbed by several police officers and forcefully hauled into the court building, where he was taken into custody.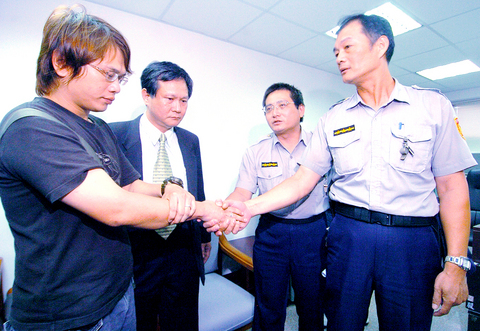 Sanlih Entertainment Television cameraman Chu Wen-cheng, left, yesterday shakes hands with police officers Chang Chin-chi, right, and Huang Chun-chieh, second right. The two officers, who serve at the Taipei District Court, apologized to Chu for grabbing his hair and forcefully hauling him into the court building on Monday afternoon after a media frenzy broke out when the president's son-in-law, Chao Chien-ming, walked out of the court building.
PHOTO: WANG MIN-WEI, TAIPEI TIMES
The court police then brought Chu to the Taipei District Prosecutors' Office and accused him of interfering with a public function (妨害公務罪).
The court police said they arrested Chu because he hit them and kicked a court police officer during the fray.
Prosecutors released Chu without bail late on Monday night .
Chu, who suffered minor injuries, told the press as he left the prosecutors' office that he neither swung at court police nor assaulted them.
"They got the wrong person," Chu said, adding that several cameramen had recorded the incident from different angles and could prove his innocence.
Widespread footage of the incident shown on several TV stations showed no evidence that Chu had attacked police officers.
Yesterday afternoon, Chu filed a lawsuit against the Taipei District Court police for offenses against personal liberty, causing bodily harm and malfeasance in office. He asked for NT$1 million (US$30,470) in compensation.
Chu claimed that court police beat him while he was in custody.
Meanwhile, the Judicial Yuan yesterday said it would "reflect" on the clash.
"The Judicial Yuan regrets the incident, and it will reflect on whether the court police overreacted ... But now that prosecutors have started probing the matter, any conclusions had better be made after the completion of the investigation," Judicial Yuan Secretary-General Fan Kuang-chun (范光群) said at a press conference yesterday.
Fan said chaos often occurs at courts nationwide when the press chases important figures as they attend hearings.
"Regulations on press practices inside and outside the courts should be created to prevent this kind of chaos from repeatedly happening," he added.
The Taipei District Court yesterday afternoon also issued a press statement offering an apology for the incident.
Government Information Office Minister and Cabinet Spokesman Cheng Wen-tsang (鄭文燦) yesterday said that guaranteeing reporters' safety should be the most important thing during media events.
"Things like this could be avoided if the Taipei District Court prepared and arranged proper working areas for reporters during an event," Cheng said.
"No matter what, reporters' safety should be the priority at all times," Cheng said.
Cheng said that there might have been some misunderstandings in this case.
However, any violence should be investigated and people who attack others should not be forgiven, Cheng said.
Additional reporting by Jimmy Chuang
Comments will be moderated. Keep comments relevant to the article. Remarks containing abusive and obscene language, personal attacks of any kind or promotion will be removed and the user banned. Final decision will be at the discretion of the Taipei Times.