Police take on pirates in fake alien frog showdown
HIP HOPPERS Five cute and clever frogs from a Japanese film that took East Asia by storm have started a wave of piracy and illegal downloading
Police are cracking down on pirated alien frogs featured in a popular Japanese animated film, a company official said on Thursday.
The film Sergeant Keroro features five cute and funny frog characters sent from outer space to take over Earth.
The film is widely popular in Taiwan, Hong Kong, China and several other Asian countries, and fans have lined up to buy toy representations of their heroes.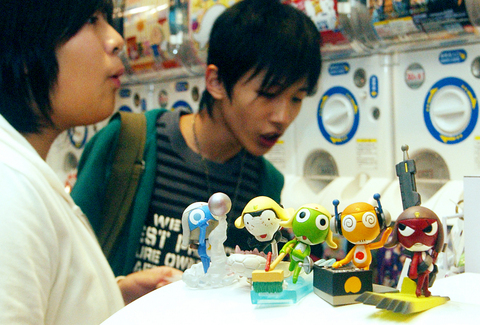 Two teenagers take a close look at five plastic alien frogs, characters from the Japanese animated film ``Sergeant Keroro,'' on Thursday in a toy shop in Taipei. Police are cracking down on pirated alien frogs featured in the widely popular film.
PHOTO: CHIANG YING-YING, AP
The frogs' popularity has led to rampant piracy and unauthorized downloading of the animated film from the Internet, said Chin Chi-hua, a manager of Mighty Media Co, the Taiwanese franchisee of the Sergeant Keroro copyright holder in Japan.
Police action has compelled many Taiwanese toy shops to remove the characters from their shelves, he said.
However, Chin said their effort to stop unauthorized file sharing has been complicated by several Taiwanese Web sites which have established themselves offshore to host the animation and skirt the police crackdown.
Comments will be moderated. Keep comments relevant to the article. Remarks containing abusive and obscene language, personal attacks of any kind or promotion will be removed and the user banned. Final decision will be at the discretion of the Taipei Times.