Pilot says navy's aging aircraft dangerous, ineffective
A navy pilot yesterday said that the navy's anti-submarine capability is low, and that it needs advanced aircraft to be able to complete its mission.
"The navy's current force of 26 S2T aircrafts is too old to detect China's advanced vessels and submarines," said S2T pilot Hsu Koei-jui (許桂瑞) at a press conference held by Democratic Progressive Party (DPP) legislators Tang Huo-shen (湯火聖) and Sandy Chuang (莊和子).
The legislators called the press conference to urge the public to support purchase of 12 P-3C maritime patrol aircraft from the US -- one of three big-ticket items in a purchase that has been blocked for months by the pan-blue controlled legislature.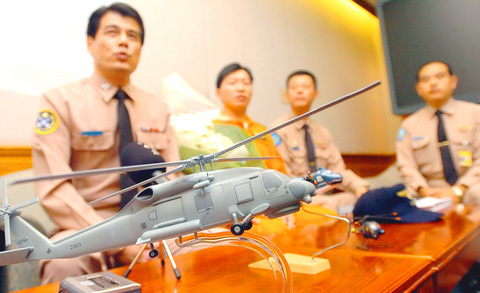 Military personnel attend a press conference called by DPP legislators to highlight the inadequacies of Taiwan's anti-submarine capability.
PHOTO: WANG YI-SUNG, TAIPEI TIMES
Hsu said that of the navy's 26 S2Ts, only 16 of the 40-year-old aircraft are usable. He said the average S2T mission lasts three hours. The aircraft has no air conditioning, no Global Positioning System (GPS) and few computer systems, and pilots have to operate the aircraft manually -- all of which makes for a high-pressure ride for pilots. Hsu said most S2T pilots consider the aircraft dangerous to fly.
A real admiral from the navy's air command, Ma Jien-chung (馬建忠), said maritime patrol aircraft carry out two primary missions: detecting submarines and monitoring unknown vessels. But the obsolete S2T has been unable to carry out those missions.
Ma said that only sustained patrols using advanced maritime patrol aircraft such as the P-3C can detect China's submarines when they are underwater. Ma said the navy has calculated that if it procures US P-3Cs, those aircraft could used for more than 20 years.
Ma added the navy mainly patrols waters northeast, southeast and east of Taiwan, and that 12 P-3Cs are enough to protect the nation's waters.
Tang said that the navy's anti-submarine force -- which includes 26 S2Ts, eight 500MD helicopters and 18 S-70C helicopters -- is insufficient.
He said that the air force procured 32 used S2Ts in 1976, and that six of those aircraft crashed before it transferred the force to the navy in 1999. Tang said that the eight 500MD helicopters have been in service for more than 25 years, and that the age of such aircraft has resulted in accidents.
One 500MD helicopter crashed in Kaohsiung in January and a S70-C helicopter crashed into the sea last week, killing one officer. Two crew members are missing and presumed dead.
Tang said those accidents had devastated the families of pilots and crew members, and that the public should support purchases of newer aircraft to help raise the safety, Tang said, appealing for passage of the bill to purchase 12 P-3Cs.
Comments will be moderated. Keep comments relevant to the article. Remarks containing abusive and obscene language, personal attacks of any kind or promotion will be removed and the user banned. Final decision will be at the discretion of the Taipei Times.