KMT goes south to boost local candidates
The Chinese Nationalist Party (KMT) held Central Standing Committee (CSC) meetings in Kaohsiung and Pingtung Counties for the first time in the party's 100-history yesterday in a bid to boost the prospects of local candidates in the year-end government elections and improve communication with party members.
KMT Chairman Ma Ying-jeou (馬英九) led Vice Chairman Wu Bo-hsiung (吳伯雄), Kuan Chong (關中), Secretary-General Chan Chuen-pao (詹春柏), and over 20 other CSC members in holding the first ever Southern CSC in Gangshan (崗山), Kaohsiung.
Legislative Speaker Wang Jin-pyng (王金平), a Kaohsiung native, however, did not join the meeting, as he stayed in Taipei for a forum held to discuss the arms procurement bill.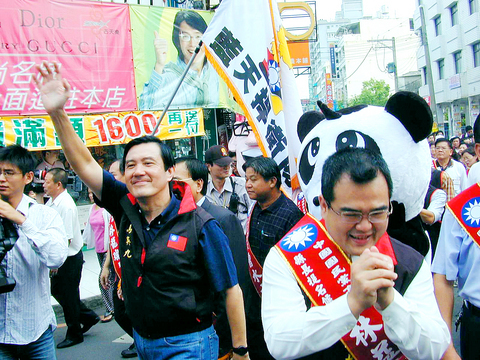 Chinese Nationalist Party (KMT) Chairman Ma Ying-jeou, left, campaigns yesterday for Kaohsiung County commissioner candidate Lin Yi-shih, right.
PHOTO: SU FU-NAN, TAIPEI TIMES
Before the meeting, Ma paid a visit to Kaohsiung County Council Speaker Hsu Fu-sen (許福森), as well as KMT councilors and local candidates who are running in township mayoral elections.
Later, during the CSC Ma said he believed that the first Southern CSC was a great opportunity for CSC members to hear voices from the south and encourage local candidates for the the year-end elections.
"What we are holding today is not only a CSC, but also a small convention. We want to make sure that locals here know that the KMT care about their opinions, and that their voices will be heard," Ma said.
While stressing that the party wasn't taking the CSC to the south solely for the purpose of the year-end elections, Ma later went out on the streets to campaign for Kaohsiung County commissioner candidate Lin Yi-shih (林益世) and Fengshan City Mayoral candidate Lin Rong-rui (林龍瑞). The party then held another CSC in Pingtung County in the afternoon.
Comments will be moderated. Keep comments relevant to the article. Remarks containing abusive and obscene language, personal attacks of any kind or promotion will be removed and the user banned. Final decision will be at the discretion of the Taipei Times.