First daughter speaks out for breastfeeding
BACK TO NATURE Chen Hsing-yu said her in-laws were dubious at first about her plans to breastfeed her children, but they have been won over by the results
Breastfeeding should be encouraged, President Chen Shui-bian's (陳水扁) daughter Chen Hsing-yu (陳幸妤) told a press conference held by the Breastfeeding Association of Taiwan.
Chen Hsing-yu, a mother of two, discussed her own breastfeeding experience during the press conference held at the Legislative Yuan yesterday.
Chao Yi-an (趙翊安), her first child, was breastfed until he was one and hardly ever got ill, she said.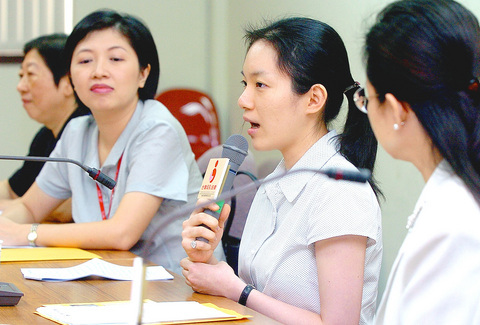 First daughter Chen Hsing-yu speaks during during a press conference to promote breastfeeding held by the Breastfeeding Association of Taiwan at the Legislative Yuan yesterday.
PHOTO: CHU PEI-HSIUNG, TAIPEI TIMES
"Breast milk contains three times the minerals and vitamins of cow's milk," Democratic Progressive Party (DPP) Legislator Tien Chiu-chin (田秋堇) said. "Babies are healthier and stronger if fed breast milk."
She said she was surprised that Yi-an refused to drink breast milk from her breasts after he was nine-months old, so she tried feeding him bottles of breast milk mixed with cow's milk.
She said the boy began to catch colds more frequently after he began consuming regular milk, so she quickly resumed feeding him breast milk.
Learning from that experience, she said she paid closer attention to breastfeeding her second son, Yi-ting (翊廷).
"Yi-ting doesn't like bottles and prefers to drink directly from the breast, unlike his brother," she said. "First-time mothers may not know what is best for their child, but they can learn and give better care to their second child."
"Breastfeeding should be something that every child can enjoy," said DPP Taipei City Councilor Chou Po-ya (周柏雅), whose four-year-old daughter Mabel is still being breastfed.
"It is the first step towards a healthier generation, a healthier city and a healthier future," he said.
Traditional views on breastfeeding were also discussed. The Breastfeeding Association said the conventional view used to be that breastfeeding was only for families who couldn't afford to buy milk powder or formula. This belief is gradually changing, it said.
"My in-laws were a bit dubious about breastfeeding at first," Chen Hsing-yu said. "They were concerned that breast milk did not have as many nutrients as milk powder."
Her in-laws have now accepted the idea of breastfeeding since both grandchildren are healthy.
Even though breastfeeding is becoming more popular in this country, there is a lack of adequate public facilities, association director Chen Yi-chun (陳怡君) said.
There should be breastfeeding rooms in public facilities, complete with breast pumps and comfortable furniture, to allow mothers to express milk or breastfeed their babies, she said.
Comments will be moderated. Keep comments relevant to the article. Remarks containing abusive and obscene language, personal attacks of any kind or promotion will be removed and the user banned. Final decision will be at the discretion of the Taipei Times.