Kaohsiung vows action in wake of riot
AT LAST After Thai workers rioted over the draconian treatment meted out to them, the Kaohsiung City Government was criticized for being slow in launching an investigation
The Kaohsiung City Government yesterday finally said that it would take action over a riot by Thai workers in Kaohsiung on Sunday night.
The city government has been accused of dodging its responsibility by not launching an investigation of the incident immediately after it happened.
Yesterday the city administration pledged to take action against the city's mass rapid transit (MRT) company if it was found to have used inappropriate policies to regulate Thai laborers hired to build the city's subway system.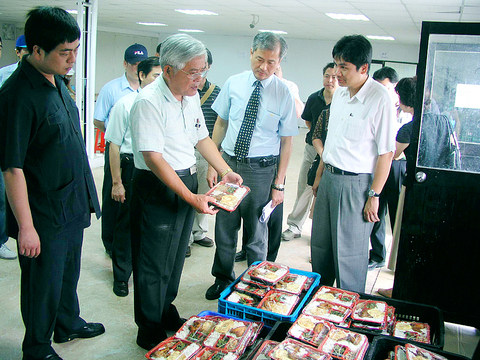 Acting Yunlin county commissioner Lee Chin-yung, second left, inspects lunch boxes provided to foreign workers by Formosa Plastics, yesterday. Lee was satisfied with both the quantity and quality of food. Lee was investigating the living conditions of foreign laborers in the wake of a riot by Thai MRT workers in Kaohsiung.
PHOTO: LIN KUO-HSIEN, TAIPEI TIMES
"We will mete out punishments to the MRT company if it is found to have violated the Employment Services Act (就業服務法) by drawing up an inappropriate management policy, deducting involuntary monthly savings from the workers' salaries and issuing scrip rather than cash for working overtime," said acting Kaohsiung City mayor Chen Chi-mai (陳其邁).
Chen dismissed criticisms that the city was indifferent to the workers grievances, saying that the city's Bureau of Labor Affairs and Department of Rapid Transit Systems swiftly responded the day after the riot.
He also shrugged off speculation that his father, Chen Che-nan (陳哲男), an adviser to the president, meddled in the importation of Thai workers to build the city's MRT system.
"I telephoned my father and asked him whether he was involved in the selection process of broker companies; he told me `no,'" he said.
Chen Che-nan last night issued a statement saying he has nothing to do with the affair, and should any evidence prove the contrary, he was willing to undergo "the toughest discipline" and withdraw from the political arena immediately.
Speculation abounds that a former high-ranking official at the Presidential Office peddled influence to lobby for the importation of foreign workers for the million-dollar project and received kickbacks from labor brokers.
Council of Labor Affairs (CLA) Chairwoman Chen Chu (陳菊) has said that she believes it was logical that some "powerful individual" was behind the matter.
The incident has brought into open the fierce competition between Chen Chi-mai and Chen Chu, who have been eyeing the city's mayoral election next year.
While Chen Chu's comments raised eyebrows, Chen Chi-mai remained low-profile until yesterday when DPP caucus whip William Lai (賴清德) said that the Kaohsiung City Government owed the public an explanation of the matter instead of letting the CLA take the blame.
Lai and Chen Chu are both members of the DPP's New Tide faction. Chen Chi-mai is a member of the DPP's Justice Alliance (正義連線), co-founded by President Chen Shui-bian (陳水扁).
Chen Chi-mai has been serving as acting city mayor since Premier Frank Hsieh (謝長廷) was recruited to the Executive Yuan.
The Kaohsiung Prosecutor's Office has launched an investigation into the matter in response to Lai's request. Lai yesterday said that he would be happy to provide any information he had to prosecutors.
In a bid to improve the Thai workers' living environment, Chen Chi-mai yesterday announced that about 500 workers would soon be relocated to the city's employment training center, where there are 170 rooms.
Personnel from a local Presbyterian church will also be deployed to help run the center.
An Aboriginal lawmaker yesterday called on the government to review its foreign labor policy and to hire indigenous labor for major government construction projects.
Aboriginal Legislator Liao Kuo-tung (廖國棟) of the Chinese Nationalist Party (KMT) said that it did not make sense for the government to import large number of foreign laborer while the nation's unemployment rate was high.
Meanwhile, Cabinet Spokesman Cho Jung-tai (卓榮泰) yesterday spoke on behalf of Hsieh in response to allegations concerning the "high-ranking DPP official."
"The Kaohsiung City Government was only responsible for making sure that all the construction projects were completed on time. Nothing more and nothing less," Cho said. "Nobody had tried to talk to the premier who was then the Kaohsiung City mayor about this issue. Such a person never existed."
Critics have also lambasted Hsieh over his alleged indifference to foreign laborer' being treated like slaves. Cho said that it was not a problem of negligence.
"No foreign laborers have been complaining about the way they have been treated. That is also a fact," he said.
Additional reporting by Jimmy Chuang
Comments will be moderated. Keep comments relevant to the article. Remarks containing abusive and obscene language, personal attacks of any kind or promotion will be removed and the user banned. Final decision will be at the discretion of the Taipei Times.