Vice minister asked to step down
WATER-WOES FALLOUT A vice minister of economic affairs will be removed and the head of the Taiwan Water Corporation will resign, the premier said yesterday
"We need a water resources expert to be our vice minister of economic affairs" was the reason the premier gave as he relieved Vice Minister of Economic Affairs Yin Chi-ming (尹啟銘) of his duties yesterday.
Premier Frank Hsieh's (謝長廷) announced the change as part of the punishment measures for government officials in the wake of water supply problems in Taoyuan recently. He made the comments during the weekly Cabinet meeting yesterday morning.
The premier also accepted the resignation of Taiwan Water Corporation (TWC) Chairman Lee Wen-liang (李文良).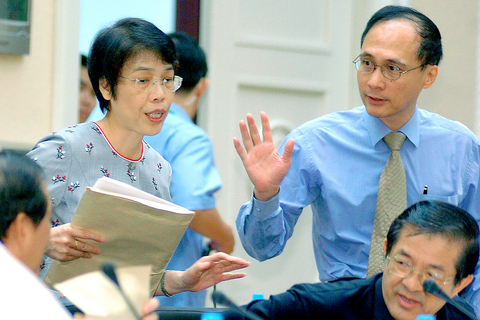 Minister of Economic Affairs Ho Mei-yueh, left, speaks to Minister of Finance Lin Chuan, right, at a Cabinet meeting yesterday, during which Premier Frank Hsieh announced a list of officials that were to be disciplined as a result of the recent water supply problems in Taoyuan County.
PHOTO: LIAO CHEN-HUI, TAIPEI TIMES
He did not, however, accept the offers to step down made by Minister of Economic Affairs Ho Mei-yueh (何美玥) and Water Resources Agency Director-General Chen Shen-hsien (陳伸賢).
"Lee's request was approved because the TWC is directly responsible for the water shortage this time, since its facilities could not function normally to maintain regular water supplies when needed," Hsieh said. "Lee is the head of the company, so he needs to take that responsibility."
`Re-arranged'
Yin had not offered his resignation and was not targeted as a name on the punishment list, but Hsieh said that Yin's position will be "re-arranged."
Hsieh said there are three vice ministers of economic affairs but none is a water resource professional.
"We do need an expert in the field to take one of the three positions," the premier said.
According to the Liberty Times, the Taipei Times' sister newspaper, former Water Resources Bureau director Hsu Hsiang-kun (徐享崑), who is also a former Chinese Nationalist Party (KMT) member, is a hot candidate to succeed Yin. Hsu is currently a staff member of the legislature's sci-tech and information committee.
However, the Cabinet had not confirmed Yin's replacement as of press time last night.
demotion possible
After the premier made the remarks yesterday morning, local TV news immediately reported that Yin was being demoted as punishment for the water problems in Taoyuan. But the government did not want the press to characterize it that way.
During a press conference after the weekly Cabinet meeting yesterday, Cabinet Spokesman Cho Jung-tai (卓榮泰) said that TV coverage of the story was not accurate because the premier only said that Yin's position would be "adjusted," not "demoted."
"I just want to make a correction that the premier never said Yin would be demoted. However, demoting him is also a possible `adjustment.' It is just not a done deal yet," Cho said.
Comments will be moderated. Keep comments relevant to the article. Remarks containing abusive and obscene language, personal attacks of any kind or promotion will be removed and the user banned. Final decision will be at the discretion of the Taipei Times.