Porn, hostess bar rumors untrue, gold medalist says
BLACKMAIL Olympic taekwondo star Chu Mu-yen denied that he had paid to quash rumors involving pornography, a `cam girl' and visits to hostess bars
Although he has had conversations with many strangers in Internet chat rooms, accusations that he visited pornographic Web sites and visited hostess bars are totally unfounded, Olympic taekwondo gold medalist Chu Mu-yen (朱木炎) said yesterday.
Chu held a media briefing yesterday to discuss his claim that he had paid a total of NT$1.1 million (US$35,335) to a group of criminals who had repeatedly threatened him and his family.
Chu, who has a girlfriend, said the gang also threatened to make public claims that he was having a relationship with a woman he had met on the Internet.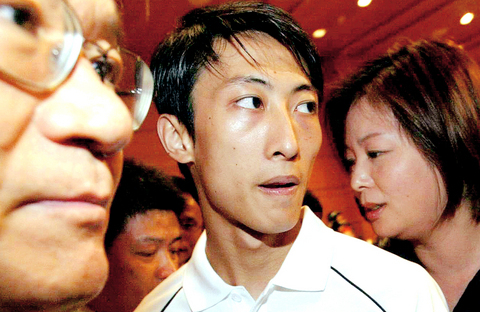 Olympic taekwondo gold medalist Chu Mu-yen, center, yesterday takes a look around before holding a press conference to discuss his claim that he had been blackmailed by a group of criminals who had threatened him and his family.
PHOTO: LIN CHENG-KUNG, TAIPEI TIMES
He was accompanied to the news conference yesterday by his senior teammate and Olympic silver medalist Huang Chih-hsiung (黃志雄), who is now a Chinese Nationalist Party (KMT) lawmaker.
"I often log on to Internet chat rooms to talk with my fans, my friends and whoever is interested in taekwondo, and I am the Web master of a Web site on Yahoo Kimo as well," Chu said.
"However, I have never been to any hostess bars or logged on to any pornographic Web sites, as I have been accused of doing. I believe that the police will figure that out and clear my name," he said.
Huang also defended the gold medalist's character.
"Chu was too stupid. He believed in strangers too easily. What can I say? I hope that this case will not damage his career and that he will be able to concentrate on his job -- participating in more taekwondo matches and winning more medals for Taiwan," Huang said.
The case came to light on May 8, when Chu reported to police that somebody was threatening him and his family, and that he had already paid them NT$1.1 million.
As the police investigation continued, more and more rumors surfaced, such as that Chu had a fondness for pornographic Web sites and had struck up conversations with a "cam girl" nicknamed "Cher."
According to some claims in the local media, "Cher" was a member of a crime ring, which used recordings of their "steamy" conversations to blackmail Chu.
Meanwhile, a recording of a phone conversation said to be between Chu and "Cher" was broadcast by local TV and radio stations a few days ago. Voice analysis confirmed that the male speaker in the recording was Chu, although the conversation can hardly be described as "steamy."
Chu yesterday admitted that it was his voice.
"I had already wired approximately NT$1 million to these people by the time I recorded that conversation. I was merely trying to collect more evidence for the police by recording that conversation," Chu said.
According to the statement Chu made to police, he had wired money to the extortionists on several occasions.
He said yesterday that he had been forced to keep paying, as the criminals had continued to threaten to kill his entire family if he did not cooperate.
"I also tried to simply hang up the phone. But they also warned me not to do that," Chu said. "They said, `Your family will die in accidents if you dare to hang up on me.'"
In response to a question about why he would spend his time on the Internet chatting with girls like "Cher" when he has a girlfriend, Chu said that "Cher" is only one of his Internet pals and that he does not even know who she really is.
"I am planning to devote myself to preparing for the 2008 Olympic games while the police take care of the case," Chu said.
Police last Friday arrested nine people suspected of having blackmailed Chu. Investigators said that they were members of a cross-strait criminal ring that has cheated and threatened countless victims out of large amounts of money.
Comments will be moderated. Keep comments relevant to the article. Remarks containing abusive and obscene language, personal attacks of any kind or promotion will be removed and the user banned. Final decision will be at the discretion of the Taipei Times.