Chen-Hu talks possible: Feinstein
'LONG-TERM DETENTE' US Democratic Senator Diane Feinstein said she believes talks with no preconditions are possible, starting with lower-level contacts first
A leading US Democratic Senator with close ties to former Chinese President Jiang Zemin (江澤民) has said that she feels a compromise is possible to allow direct talks between President Chen Shui-bian (陳水扁) and Chinese President Hu Jintao (胡錦濤) "with no preconditions" in the current state of cross-strait relations.
Diane Feinstein of California said last week that she felt the most productive way to go about arranging such negotiations would be for the US to broker an agreement, starting with talks between low-level Chinese and Taiwanese officials.
Such negotiations would aim at reaching a long-term agreement to codify a new status quo that would put off the time when both sides would have to confront the ultimate choice of unification or independence for Taiwan.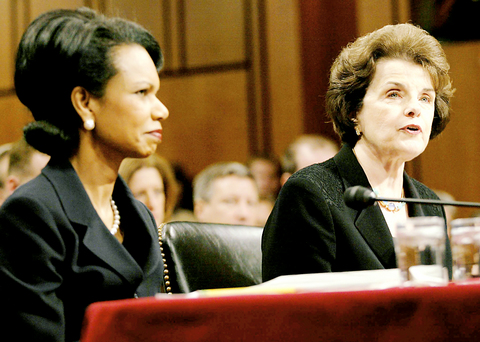 US Senator Diane Feinstein speaks to the Senate Foreign Relations Committee in this file photo from January in Washington.
PHOTO: AFP
She said that Hu's government realizes that the time is not ripe for unification, and that Beijing "is willing to wait on Taiwan as long as the island does not pursue independence."
Feinstein said she envisioned a sort of "long-term detente."
This would provide "the most realistic and viable opportunity to prevent a cross-strait conflict and allow for a peaceful resolution to the Taiwan issue," Feinstein said.
"At this stage, I believe the most constructive approach to insuring cross-strait peace may be for the United States to assist in brokering a long-term peace agreement between the mainland and Taiwan that would codify a mutually agreed upon status quo," she said.
She made her comments in a speech at a breakfast meeting of the Asia Society in Washington.
After the speech, she told reporters that she was not aware of any efforts underway to bring about such negotiations.
Feinstein revealed that in April of 2002 she tried to bring both sides together, but the efforts were unsuccessful when China balked at the idea.
She said she made the offer to then-Mainland Affairs Council director Tsai Ying-wen (蔡英文) and then-deputy director of the Taiwan Office of China's State Council, Zhou Mingwei (周明偉). At the time, both officials were in Washington on visits.
Taiwan agreed to the initiative, but China decided to "demur," Feinstein said.
She said that cross-strait talks could take place if Chen agreed to the discussion "based on the principle of the 1992 consensus framework" established in 1992 Hong Kong discussions and on the recent 10-point agreement Chen signed with PFP Chairman James Soong (宋楚瑜).
However, Feinstein raised questions about whether Hu would be able to agree to such negotiations, considering the current state of internal politics in Beijing.
While she called the recently enacted "Anti-Secession" Law a mistake, she noted it did not refer to the "one country, two systems" formula and urged Taiwan not to "ignore" the law's more conciliatory sections.
Calling Hu "enigmatic," especially in his Taiwan policy, the senator noted that his policies have vacillated between holding a hard line and flexibility.
She guessed that his position may not be enough for him to venture into cross-strait talks.
"I do not know whether he is secure or not," she said.
In a telling incident, Feinstein travelled to Beijing last August but was rebuffed in her attempts to meet with Hu. She said that might have been because Hu had not yet assumed the chairmanship of the Communist Party's powerful Military Affairs Council, which was still held by Jiang.
She did meet at the time with Jiang, whom Feinstein has known for 20 years, first through a sister city relationship between Shanghai and San Francisco when she was mayor and he was party chief, and then through her husband's substantial business dealings in Shanghai under Jiang.
Feinstein conceded that she does not know Hu, and thus cannot accurately assess his personality or policies.
In her speech, Feinstein also urged the Bush administration to resurrect an offer Jiang made to Bush during a 2002 visit to Bush's Crawford, Texas ranch to start dismantling China's missiles aimed at Taiwan in exchange for a US pledge to stop selling Taiwan new weapons systems. The US rejected the offer.
Comments will be moderated. Keep comments relevant to the article. Remarks containing abusive and obscene language, personal attacks of any kind or promotion will be removed and the user banned. Final decision will be at the discretion of the Taipei Times.