Pan-blues urge probe of clashes
The pan-blue camp yesterday urged police to immediately investigate the violent clashes that took place at the CKS International Airport yesterday morning and to strictly punish those who violated the law.
The Chinese Nationalist Party (KMT), People First Party (PFP) and New Party complained that Democratic Progressive Party (DPP) and Taiwan Solidarity Union (TSU) politicians instigated the clashes.
"DPP Legislator Wang Shin-cheng (王世堅) and the TSU's Lo Chih-ming (羅志明) were the leaders of the crowd. Everybody saw that," said KMT caucus whip Chen Chieh (陳杰). "They should be investigated and indicted since they led the crowd to break into the airport."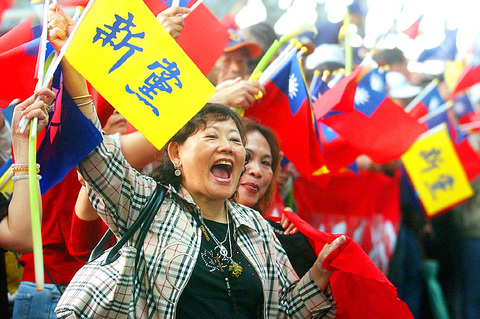 Chinese Nationalist Party (KMT) supporters wave and chant slogans at CKS International Airport to wish Chairman Lien Chan a good trip yesterday.
PHOTO: AP
Chen also complained about the Aviation Police Bureau.
"How can they be so disorganized?" Chen said. "How could they allow those protesters to enter the check-in counter area with potential weapons? In addition, they didn't even designate an area for the demonstrators, so their protest activities were basically a big mess. These police officers are simply incompetent."
PFP caucus whip Chen Chih-pin's (陳志彬) complaints were milder, reflecting the fact that the PFP has been trying to build a relationship with the DPP. He criticized the DPP for trying to sending mixed messages on Lien's visit.
"Its own politicians led the violent protest, while it announced its support toward its opposition party leader," Chen Chih-pin said.
He urged the government to show sincere support for KMT Chairman Lien Chan (連戰) and PFP Chairman James Soong's (宋楚瑜) trips.
"The president said that he wishes good luck for KMT Chairman Lien Chan's trip. Did he mean what he said? I doubt it," said PFP Legislator Lee Hung-chun (李鴻鈞).
New Party Secretary-General Lee Sheng-feng (李勝峰) said that the police were to blame for yesterday's conflict.
"We asked our supporters to see Lien off outside the check-in counter area. However, the police allowed the pan-green camp supporters to enter the area, even though some of them were carrying ... belongings that could be used to attack others," Lee Sheng-feng said.
Comments will be moderated. Keep comments relevant to the article. Remarks containing abusive and obscene language, personal attacks of any kind or promotion will be removed and the user banned. Final decision will be at the discretion of the Taipei Times.