Gay-friendly candidates named
`PINK' VOTE Although gay voters are a minority, a gay rights group said they could make a difference and that should make their voices heard on Saturday
A minority group called the Tongzhi Hotline Association yesterday published a "Rainbow List" of gay-friendly candidates in Saturday's legislative elections, hoping to draw out pink voters hidden in the nooks and crannies of Taiwan's polarized political world. \nThe association sent out 100 survey forms to all legislative candidates in Taipei City, Taipei County, Taoyuan County and Taichung City, quizzing them on the group's policy agenda -- which includes offering free cocktail drug treatment for those infected with HIV, inclusion of different sexual orientations in the Gender Equality in Employment Law (兩性工作平等法), and a proposed "basic human rights protection" law that would ensure gay people's right to work, adoption and having a family. \nOf the 30 responses the group received, it picked the 14 candidates most likely to address the concerns of the gay, lesbian, bisexual and transgendered communities. The 14 recommended candidates from across the political spectrum signed a white paper proposed by the association and pledged to revise relevant laws should they be elected. \nAmong those on the list are some new faces such as independent candidate Lin Cheng-hsiu (林正修) and Wang Fang-ping (王芳萍). The association also ranked other better-known figures such as Chinese Nationalist Party (KMT) candidate Lu Hsiu-yen (盧秀燕), the New Party's Joanna Lei (雷倩) and the Democratic Progressive Party's Lan Mei-chin (藍美津). \n"In these years when politics seems to be viewed strictly in terms of the green-blue divide, gay-friendly candidates tend to escape notice," said Ashley Wu (巫緒樑), the association's director of public affairs. \n"If we do not stand up for ourselves and come out to vote, who is going to stand up for us?" said J. J. Lai (賴正哲), a gay activist and owner of the gay bookstore Gin Gin's. \nHowever, after stumping for candidates who claim to be gay-friendly, the gay rights groups now face another question: Is there such a thing as an identifiable community of gay voters, ripe for mobilization by keen-eyed politicians? \nLai said that in a society where few gays dare to come out of the closet, the number of pink voters is hard to measure. \nDespite the uncertain number of gay voters though, the association said that they still have a chance to tip the balance of power if their preferred candidates are elected. \n"Look at the 4,000-strong gay pride parade last month," Wu said, "Several politicians and legislative candidates showed up to court gay votes. This speaks to the growing potential of pink voters." \n"Also, in the cutthroat battle between pan-blue and pan-green camps, votes from minority groups could be a key factor helping a candidate to victory," he added. \nIn contrast with the rosy picture drawn by the association to appeal voters, Wang Fang-ping -- one of the candidates recommended by the group -- cast doubt on the credibility of campaign promises. \nThe real question, Wang said, is that whether candidates trumpet their gay-friendliness out of genuine concern for gay issues, or just as a campaign ploy. \n"Post-election supervision is always more important than pre-election endorsements, especially when so many campaign promises are notoriously untrustworthy" said Wang, who long championed the legalization of prostitution and rights of sex workers. \n"The gay community should keep a close eye on their candidates. The communities must see if they act on their campaign pledges," she said. \nWang's skepticism echoed the association's last endorsement in the 2001 legislative election, where many recommended candidates, including Sisy Chen (陳文茜), did little to push ahead with legislation to promote gay rights. Others, such as gay candidates Chen Wen-yan (陳文彥) in Taipei and Chan Jing-yan (詹景嚴) in Kaohsiung, simply failed to win legislative seats.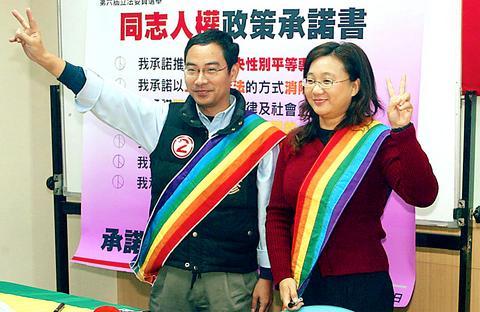 Independent legislative candidates Lin Cheng-hsiu, left, and Wang Fang-ping, participate in a signature drive for a gay rights petition, at a press conference to list gay-friendly legislators that took place at the NTU Alumni Association on Saturday.
PHOTO: CNA
Comments will be moderated. Keep comments relevant to the article. Remarks containing abusive and obscene language, personal attacks of any kind or promotion will be removed and the user banned. Final decision will be at the discretion of the Taipei Times.