Nanwan eco-grid monitors undersea activity
Taiwan's eco-grid system has successfully extended its coverage from the land to the sea, further facilitating the sharing of the data contained in ecological studies with local scientists' counterparts in the rest of the world. \nIn Nanwan, a small bay north of the resort town of Kenting in southern Pingtung County, about 7m to 8m underneath a set of buoyant balls floating beside the Third Nuclear Power Plant's cold seawater intake system, a real-time set of monitors using nine sensitive cameras monitors marine ecological systems. \nAll data collected by the cameras is first digitized and then transmitted wirelessly to receivers in a control room at the power plant, through which it is then distributed via ADSL to the National Center for High-Performance Computing (NCHC). \n"The underwater monitoring system in Nanwan functions 24 hours a day, seven days a week. Among the various researchers connected to the worldwide eco-grid, it's the first to be able to contribute data from under the sea," Lin Fang-pang (林芳邦), division manager of NCHC's Grid Computing Division, said. \nBeginning last year, the center connected to the Pacific Rim Applications & Grid Middleware Assembly (PRAGMA), a unique collaboration among Asia-Pacific countries supported by the US National Science Foundation. Since then, Taiwan's eco-grid system powered by the center has become able to continuously contribute real-time ecological data collected by cameras on land at major research sites, including Fushan and Yuan Yang Lake in Ilan, as well as Nanjenshan in Pingtung, to the international community. \nThe center's first success in sharing long-term ecological research data with other countries last year served as an inspiration to local marine scientists. Devoted coral researchers wonder if the system could effectively help tackle problems about underwater observation of ecological systems. \nIn April, by working with local zoologists studying coral in waters managed by Kenting National Park, the center further built a real-time monitoring system near the power plant's intake of cold seawater. \nAccording to Shao Kwang-tsao (邵廣昭), a scientist at Academia Sinica's Institute of Zoology, ecosystems at the site are ideal references because the location is protected by a breakwater. \nShao said that continuous monitoring data collected at the site can offer more details about natural phenomena and the behavior of water creatures. \n"In the past, we can only rely on diving to collect data. However, sensitive creatures might hide themselves," Shao said. \nAt a press conference held last week at the power plant, Shao showed real-time images of the underwater world in Nanwan, saying that researchers are learning more details about the competition between sea anemones and coral, the mechanism of coral's being covered by sediment, and other phenomena rarely observed. \nHowever, maintenance is a headache. Every 7 to 10 days, biologists from the National Museum of Marine Biology and Aquarium, situated nearby, have to come to the plant to clean the cameras, whose lenses often become the home for tiny water creatures. \nTo facilitate a coral recovery project, Taiwan Power Company, which runs the plant, has also financed NT$6 million for the first two years of the project. \nShao said that inappropriate human activities at the national park had caused significant loss of biodiversity in recent decades. \n"The government should zone more areas for ecological conservation here and limit fishing around coral reefs," Shao said. \nShao said that the abundance of ecological resources in Taiwan, whose geological and geographic conditions were formed as early as during the Tertiary period 65 million years ago, deserve to be studied more closely and preserved in order to ensure the land's sustainability. \nThe real-time underwater monitoring system now transfers images to the museum. \nFan Tung-yung (樊同雲), a biologist for the museum, told the Taipei Times that scientists had done their best to mitigate the disappearance of coral. \n"In addition to monitoring several coastal sites, we also grow as many kinds of coral colonies as we can in the lab," Fan said. \nResults of their coral recovery efforts can be seen by museum tourists, who can enjoy the fascinating sight of diverse coral colonies and fish by walking into the display room called the "Kingdom of Coral." \nFan said that the museum promotes the preservation of not only coral but also other marine creatures. Although environmental education has been promoted for years, Fan remains worried. According to a newly completed investigation of ecological losses caused by an oil spill in 2001, the percentage of coral coverage in affected areas has dropped to 30 percent from 80 percent. \nThe spill involved a Greek-registered cargo ship, the MV Amorgos, which ran into submerged reefs near Kenting, leading to a spill of 1,150 tonnes of fuel oil near an ecological reserve at the park. \nBeing aware of the importance for Taiwan of promoting marine science-related research, NCHC director Joe Juang (莊哲男) said more technologies for grid computing would be further developed in order to enhance the underwater monitoring project. \n"In addition, if any lens for underwater cameras could be produced using nano-materials, the maintenance would be much easier," Juang said. \nGrid computing requires powerful, reliable, high performance systems and sophisticated software. \nSo far, the underwater monitoring project involving grid technologies has interested other countries, such as Australia, whose ecological systems at the Great Barrier Reef are world-famous. \n"The eco-grid system at Nanwan makes it possible for Taiwan to play a leading role in coral protection in the world," said Peter Arzberger, director of National Biomedical Computation Resource at University of California in San Diego. \nThe San Diego Supercomputer Center is one of the major webmasters maintaining the eco-grid. Through the connection, US scientists working on the establishment of a global lake observatory network now jointly monitor a site at Yuan Yang Lake in Ilan. \n"By retrieving data collected in Taiwan, we can make a comparison between Yuan Yang Lake and others in the US," said Tim Kratz, director of Trout Lake Station at the Center for Limnology for the University of Wisconsin-Madison. \nAccording to Kratz, Yuan Yang Lake is particularly interesting because of large disturbances caused by typhoons. \nKratz said that global perspectives are quite important for scientists because local environmental issues indicate global climate change.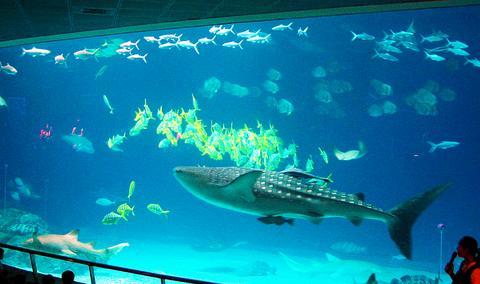 Tourists at the National Museum of Marine Biology and Aquarium listen to an interpreter, who explains the habits of a 4.2m female whaleshark. The whaleshark is thus far the largest animal on display at the museum.
PHOTO: CHIU YU-TZU, TAIPEI TIMES
Scientists at the National Museum of Marine Biology and Aquarium check one of the many different kinds of coral colonies grown in the lab.
PHOTO: CHIU YU-TZU, TAIPEI TIMES
Comments will be moderated. Keep comments relevant to the article. Remarks containing abusive and obscene language, personal attacks of any kind or promotion will be removed and the user banned. Final decision will be at the discretion of the Taipei Times.