Costumed and bemedaled candidates sign up for polls
PUBLICITY SEEKERS Legislative hopefuls used a variety of stunts to draw media attention to themselves and their parties as they registered for the Dec. 11 elections
Costumed and shouting slogans, legislative hopefuls came out in force yesterday, the first day of five that they can register as candidates in their voting districts for the year-end legislative elections. \nRegistration for the sixth legislative elections scheduled for Dec. 11 are being accepted at local-level election committees until Tuesday. \nThe lists of nominees for at-large legislative seats and seats representing overseas Chinese are being submitted directly to the Central Election Commission (CEC) by political parties, in accordance with the commission's regulations. \nThe campaigns began with a bang as many would-be contenders showed up to register in costume, while the New Party's hopefuls formally registered with the Chinese Nationalist Party (KMT). \nIn Taipei City, a five-member Democratic Progressive Party (DPP) team tried to piggyback on the recent Olympic hoopla by wearing fake gold medals. \nCalling themselves "gold-medal warriors," the team, including legislators Shen Fu-hsiung (沈富雄), Kuo Cheng-liang (郭正亮), Tuan Yi-kang (段宜康) and Lan Mei-chin (藍美津) -- along with Taipei City Councilor Wang Shih-chien (王世堅) -- said they were all confident of victory. \nNot to be outdone, People First Party (PFP) candidates Lee Ching-an (李慶安), Pang Chien-kuo (龐 建國), Lin Yu-fang (林郁方), Lee Yung-ping (李永萍), Hsu Yuan-kuo (許淵國) and Chin Huei-chu (秦慧珠) tore apart plastic bags symbolizing "unemployment and recession" to highlight their platform to boost the economy. \nKMT candidate Justine Chou (周守訓) arrived barefoot but clad in a Chinese Taipei Olympic baseball team uniform. \nAboriginal DPP candidate Chen Ying (陳瑩) appeared dressed in a traditional Aboriginal costume and singing a traditional Aboriginal song. \nMeanwhile, lead by New Party Chairman Yok Mu-ming (郁慕明), seven of the New Party's candidates went to the KMT's headquarters in Taipei at noon to join the KMT and receive official documents from KMT officials recommending them for the elections. \nThe seven are: Taipei City Councilor Alex Fei (費鴻泰), Lai Shyh-bao (賴士葆), Lee Sheng-feng (李勝峰), Joanna Lei (雷倩), Chen Li-ling (陳麗玲), Chen Shu-wan (陳淑婉) for Taichung City, and Lu Li-kang (盧利康). \nAfter the seven signed the KMT forms, they, along with Yok and New Party Legislator Wu Cheng-tien (吳成典) were received by KMT Chairman Lien Chan (連戰). \nLien told the delegation "welcome home." \n"We have waited to get these [KMT] legislative recommendations for 12 years [since the New Party was formed by KMT defectors]," Lee Sheng-feng said.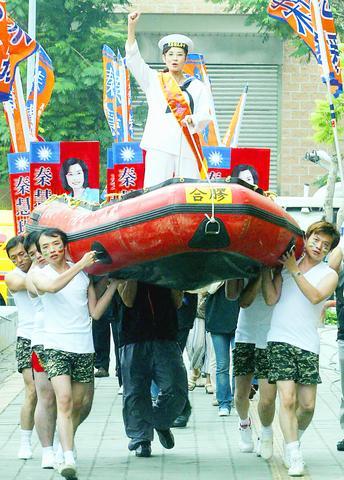 People First Party Legislator Chin Huei-chu arrived at Taipei City's election commission dressed up as a sailor to register for the Dec. 11 legislative elections. The order of all candidates will be decided by a draw scheduled for Nov. 17 after their qualifications are reviewed by the Central Election Commission.
PHOTO: CNA
Comments will be moderated. Keep comments relevant to the article. Remarks containing abusive and obscene language, personal attacks of any kind or promotion will be removed and the user banned. Final decision will be at the discretion of the Taipei Times.