Visa fiasco has produced a culprit, or a scapegoat
RESIGNATION Tien Hung-mao will not be living the high life in London anymore. Did he do something to deserve his fate, or is he just playing the good soldier?
Legislators are calling for more heads to roll after the Cabinet accepted the resignation of the nation's top representative to the UK, Tien Hung-mao (田弘茂), over the visa fiasco surrounding fugitive murder suspect Andrew Wang's (汪傳浦) family. \nThe acceptance of Tien's resignation did not come as a surprise. It was widely expected since Minister of Foreign Affairs Mark Chen (陳唐山) conducted an unusual press conference on July 23 to announce the blunder that the UK representative office made in issuing a new passport to Wang's wife, Yeh Hsiu-chen (葉秀貞). \nIt intrigues many, however, that the government chose to admit mistakes it had made a long time ago, particularly when the administrative mistakes, strictly speaking, did not violate the law. \nChen criticized the London office's negligence in issuing a new passport to Yeh on March 17 and granting her six authorization papers allowing real estate transfers on May 27 -- even after the government had provided the office with a list of Wang's family members. \nTien flew back to Taipei two days after Chen's press conference. Arriving at CKS International Airport, he pleaded for an opportunity to explain the whole case, emphasizing that all operations in his office were carried out according to instructions from the central government. \nDefending her husband, Tien's wife Kuo Mei-hui (郭美惠) said that as top representative to the UK Tien did not personally supervise consular affairs. Officials at the London office, after being informed that the Cabinet had accepted his resignation, said they felt that Tien had been wronged. \nLo Chih-cheng (羅致政), executive director of the Institute for National Policy Research, which Tien previously headed, questioned whether the London office had done anything illegal in issuing a passport to the wife of a fugitive criminal suspect. \nThe Control Yuan and the Minister of Foreign Affairs' separate investigations have proved the London office issued the passport and the legal documents to Yeh although she supplied false information on her passport application form. \nWhile the office's negligence was described as an "administrative mistake," Lo said that according to the law, Yeh as a Taiwanese citizen has the right to apply for a new passport. \nPerhaps fearing that her identity as a murder suspect's wife would hinder her application for a passport, Yeh did not write her spouse's name on the application form. However, argued Lo, even though the office knew who she really was, it still had to issue her a passport. "Denying her a passport equates to denying her human rights," Lo said. \nWith the six authorization papers allowing real estate transfers, Yeh has completed two real estate deals. The other four were blocked after the visa ruckus broke out. "Why didn't investigators stop the first two transfers, knowing Yeh was behind the deals?" Lo asked. \nWang, a former arms dealer, has been wanted since September 2000 in connection with the death of navy Captain Yin Ching-feng (尹清楓) in December 1993. Yin's death was allegedly linked to the corruption-tainted sale of French Lafayette-class frigates to Taiwan in the 1990s. \nTien, the first Democratic Progressive Party (DPP) member to become a foreign minister, has never been fully trusted by President Chen Shui-bian's (陳水扁) administration, according to a well-placed source at the National Security Council. \nIt has been known that some of Chen's national policy advisers did not like Tien as a foreign minister, criticizing him for fearing to seek major diplomatic breakthroughs. Close to former president Lee Teng-hui (李登輝), Tien has also been suspected of leaning toward the Chinese Nationalist Party (KMT).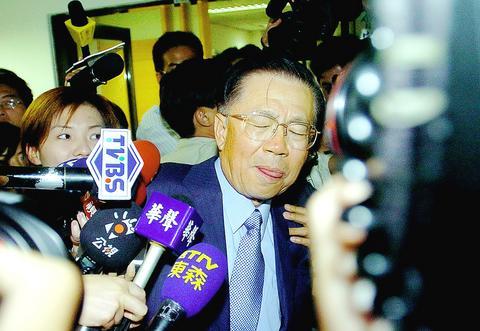 Taiwan's former representative to the UK, Tien Hung-mao, pushes through a crowd of journalists yesterday.
PHOTO: YEH CHIH-MING, TAIPEI TIMES
Comments will be moderated. Keep comments relevant to the article. Remarks containing abusive and obscene language, personal attacks of any kind or promotion will be removed and the user banned. Final decision will be at the discretion of the Taipei Times.