Three-month firearms amnesty starts today
CRACKDOWN Violent incidents in Taichung City and Chiayi in recent weeks have led to a six-month campaign against illegal firearms, arms traffickers and other criminals
Starting today, the National Police Agency (NPA) commences a three-month amnesty for those holding illegal firearms to hand in the weapons without being charged.
"From July 1 to Sept. 30, individuals possessing illegal firearms may turn them in at police stations, district prosecutors' offices, coast guard posts and armed force reserves without getting a criminal record," Minister of the Interior Su Jia-chyuan (蘇嘉全) said at the NPA press conference.
The three-month program is the result of a fierce shootout between police and kidnappers in Taichung City on June 16. Two police officers were killed in the confrontation.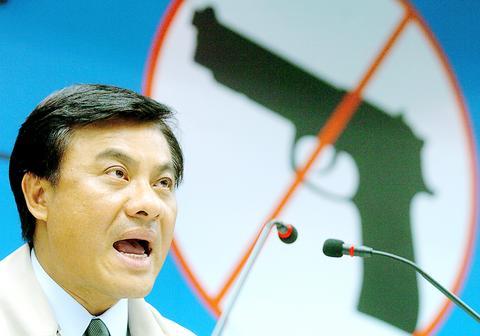 Minister of the Interior Su Jia-chyuan speaks at a press conference announcing a three-month amnesty for those holding illegal firearms.
PHOTO: CHEN TSE-MIN, TAIPEI TIMES
The program is jointly administered by the NPA, the Ministry of National Defense, the Ministry of Justice and the Coast Guard Administration.
"We will comprehensively implement the Ministry of the Interior's [MOI] plan to clamp down on illegal firearms as well as the amnesty," Coast Guard Administration Deputy Director Yu Ming-hsi (尤明錫) said yesterday.
"As violence is associated with many crimes, the use of illegal firearms as weapons is on the rise. In order to crack down on criminal activities and build a safer society, the MOI will continue to aggressively crack down on illegal firearms and illegal behavior," Su said.
Su also urged the public to report any suspicious individuals or activities.
Following the three-month amnesty, the government will commence a three-month program cracking down on crime and arms trafficking, Criminal Investigation Bureau Commissioner Hou You-yi (侯友宜) said.
This is the fourth time the government has organized a firearms amnesty.
NPA Director-General Shieh Ing-dan (謝銀黨) said that a shooting in Chiayi on Tuesday night sparked the government's effort in cracking down on illegal activities.
"The clampdown on crime started last night when the police in Chiayi arrested two armed drug dealers," Shieh said yesterday.
The shooting resulted in the death of one drug dealer and leg injuries to a police officer.
Comments will be moderated. Keep comments relevant to the article. Remarks containing abusive and obscene language, personal attacks of any kind or promotion will be removed and the user banned. Final decision will be at the discretion of the Taipei Times.