Campaign Special ( Shooting ) - Chi Mei administration dismisses conspiracy theories
The doctors and hospital staff who treated Chen and Lu rejected allegations that the hospital knew an emergency would occur
The presidential medical team yesterday dismissed speculation that Friday's shooting of President Chen Shui-bian (陳水扁) and Vice President Annette Lu (呂秀蓮) had been staged, saying that medical records had not been tampered with and that the Chi Mei Medical Center had no advance knowledge of the emergency.
The medical team also said that check-ups performed on Chen yesterday morning showed that his condition was stable and improving.
Chen's vital signs were declared stable by doctors with his blood pressure at 136/76, his pulse at 76 beats per minute, and his respiration at 18 breaths per minute. Cathay General Hospital superintendent Chen Kai-mo (陳楷模), who is the head of the presidential medical team, said Lu was also recovering and being treated by doctors on rotation duty.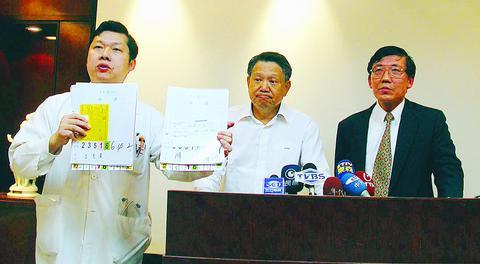 Lin Hung-jung, director of Chi Mei Hospital's emergency department, yesterday shows reporters the medical records of President Chen Shui-bian and Vice President Annette Lu yesterday to refute claims that the records had been falsified.
PHOTO: WANG YU-TING, TAIPEI TIMES
"Providing medical treatment is Chi Mei Medical Center's top priority. We do not let politics get in the way of that," said Steve Chan (詹啟賢), superintendent of the Chi Mei Medical Center.
The medical center's authorities called a press conference early yesterday morning, just six hours ahead of the election, to rebut accusations made by independent Lawmaker Sisy Chen (陳文茜) late Friday night.
"A nurse from Chi Mei Medical Center revealed that National Security Bureau officials had visited the hospital that [Friday] morning, before the event happened," Sisy Chen said.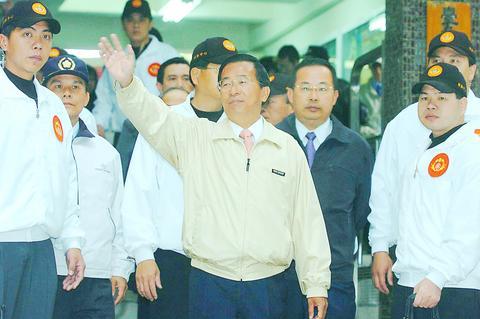 President Chen Shui-bian showed few signs of discomfort yesterday as he waves to supporters after voting at a polling station in Minchu Elementary School in Taipei. Chen was surrounded by security guards, some of them armed.
PHOTO: CHIANG YING-YING, TAIPEI TIMES
She also accused doctors of tampering with the president and Lu's medical records, while other reporters yesterday asked why Chen Shui-bian's face had not been shown in the photograph of his wound.
"Altering a patient's medical records is against the law and out of the question in this case," Chan said, adding that several nurses and doctors had treated the president.
Lin Hung-jung (林宏榮), the chief of the emergency department, also denied allegations that rosters had been altered to accommodate the Chen ahead of time, saying that the emergency room was fully staffed on a regular basis.
Chan also said that he had been in the middle of a haircut when he was notified that Chen Shui-bian was in the hospital's emergency room.
"Why do you think I held a press conference on Friday wearing a baseball cap? Only one side of my hair had been cut when I learned of Chen's situation. Do you think I would have gotten a haircut if I knew about the shooting beforehand?" Chan said.
Democratic Progressive Party campaign manager Su Tseng-chang (蘇貞昌) also said that it was impossible that the shooting could have been staged, saying that the bullet could have lodged in the president's body had the angle of entry been slightly different.
"These accusations cause me pain and anger. This is a grave situation that should trigger concern, but the opposition party is only concerned with power," Su said.
Questions had also been asked as to why Chen Shui-bian and Lu had been taken to Chi Mei Medical Center instead of other nearby hospitals.
Secretary General to the President Office Chiou I-jen (邱義仁) said that according to security contingency measures, Chi Mei Medical Center was Tainan City's designated hospital in the event of a emergency.
The driver of the jeep in which Chen and Lu were shot, Kou Yu-hsin (郭雨新), held a press conference yesterday.
He explained that although other hospitals might have been closer geographically, it was actually faster to drive to Chi Mei Medical Center.
Comments will be moderated. Keep comments relevant to the article. Remarks containing abusive and obscene language, personal attacks of any kind or promotion will be removed and the user banned. Final decision will be at the discretion of the Taipei Times.