Shen fails to clarify his position in scandal
Democratic Progressive Party (DPP) Legislator Shen Fu-hsiung (沈富雄) yesterday said that the media has distorted the presidential election's main appeal by all devoting yesterday's headlines to his whereabouts over the past two days, as if he was a presidential candidate waiting to be judged on March 20.
"I wish the local media would return to their normal work [of coverage] and undertake a relevant approach toward the election campaign. This uproar regarding something that happened 10 years ago is insignificant," Shen said at a press conference.
After two days of "disappear-ing," Shen yesterday showed up and implied that first lady Wu Shu-chen (吳淑珍) had received former Tuntex Group chairman Chen Yu-hao (陳由豪) at her Minsheng East Road residence 10 years ago and accepted NT$3 million from him as a political donation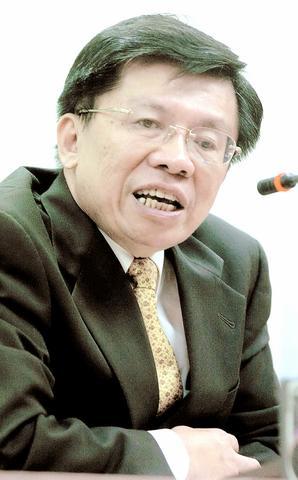 DPP Legislator Shen Fu-hsiung yesterday morning held a press conference to clarify his role in the high-profile ``Chen Yu-hao case.''
PHOTO: WANG MIN-WEI, TAIPEI TIMES
"The incident happened in 1994 when Tuntex was still among the top 10 conglomerates in Taiwan. Chen Yu-hao was a leading businessman then and he would only make donations out of respect. So when I accompanied him, he made me look good because I was not good at raising money for the DPP," Shen said.
"Back then the donator was moved, and the receiver grateful. I felt I looked good and I was moved too. But what was a wonderful thing 10 years ago now became a lousy thing," Shen said.
Chen Yu-hao stated on Monday that he met Chen Shui-bian (陳水扁) and his wife and, when Chen Shui-bian was running for Taipei Mayor in 1994, made donations at Chen Shui-bian's home, accompanied by Shen.
Shen had been avoiding the media since Monday, but yesterday he finally returned to the Legislative Yuan to admit he accompanied Chen Yu-hao to Chen Shui-bian's home.
Shen got to the crux of the matter only after he gave four possibilities regarding the incident as seen from his side, and three possibilities from Wu's side, and said his memory and Wu's might differ.
From his side, Shen said it was most likely he went along to Chen Shui-bian's house on that occasion.
"The first possibility was I went and most people knew this is the most reasonable answer, and this was the most possible thing that happened," Shen said.
Then Shen said the second possibility was that he did not go but he thought he went. The third possibility was that he did not go but he aimed to set up the first lady and the president, but this was not likely. The last possibility was that he was delusional.
"It is very likely that Wu Shu-chen really forgot about the meeting and she also believed the meeting did not exist. She would then pass a polygraph test without any problem," Shen said.
"Actually when I saw on TV one or two weeks ago that Wu Shu-chen was going to hold a press conference, I hoped that she would say she really forgot about the meeting.
"After doing research, she said no such meeting took place because she forgot about it. However, in the end she still said she had no memory regarding the meeting," Shen said.
Shen pointed out that the other two possibilities were that Wu did not forget, but told either a malicious or a white lie.
He said she might have told a malicious lie because she took the money for her own use, but this was not likely. She could've told a white lie because the DPP had been saying it is a clean party not involved with "black gold" and she reacted in a fitting manner.
Meanwhile, Chen Yu-hao, who is still in the US, watched Shen's press conference and responded to Shen's endorsement of his accusation with gratitude by bowing three times to Shen via cable transmission.
In response to Shen's press conference, Wu dismissed his remark that she had received Chen Yu-hao's donations at her Minsheng East Road residence in Shen's company 10 years ago.
Speaking in a televised interview following Shen's disclosure, Wu said, "I firmly believe my own memories [that I have never met with Chen under Shen's escort in my residence 10 years ago], and my memory is good."
"I wouldn't at all deny my relations with Chen Yu-hao simply because of the election. President Chen Shui-bian has mentioned many times that we've received Chen's donations many times in the previous elections and we've issued receipts to him for each donation he made," Wu said.
She said, "I've admitted I met with Chen's wife in my house in the company of Shen's wife six months ago. At that time, Chen has been wanted by the authorities. If I dared to admit to a meeting with the wife of a criminal six months ago, why would I deny a meeting with him 10 years ago?
Wu said that "the DPP administration's stance is clear that by accepting donations, it doesn't mean the donors could commit crimes."
Comments will be moderated. Keep comments relevant to the article. Remarks containing abusive and obscene language, personal attacks of any kind or promotion will be removed and the user banned. Final decision will be at the discretion of the Taipei Times.