Oldest church marks birthday
RELIGION The Catholic church in Wanchin Village was packed on Dec. 7 for a mass to mark its 142nd anniversary, but numbers were down from last year
A festival atmosphere pervaded Wanchin Village (萬金村) in Pingtung on a sunny Dec. 7 as Wanchin Basilica (萬金聖母聖殿), Taiwan's oldest Catholic church, celebrated its 142nd anniversary with a grand mass.
With nearly 10,000 believers from across the country at the ceremony, local villagers set up food and grocery stalls alongside the narrow street leading to the old church.
Traffic police, rarely seen in the village situated at the foot of Tawu Mountain (大武山), had been directing cars and buses carrying pilgrims to appointed parking lots since early in the morning.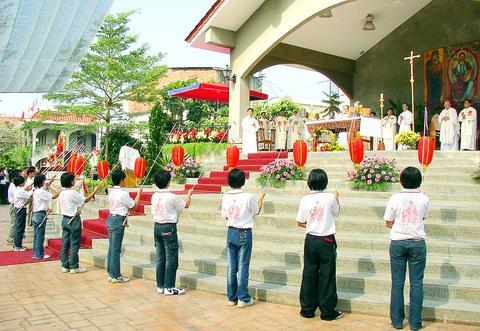 Services are held in Wanchin Village on Dec. 7 to mark the 142nd anniversary of the nation's oldest Catholic church.
PHOTO: MELODY CHEN, TAIPEI TIMES
The mass started at 10am. A long line of people, each holding a rose, queued outside the church waiting to enter.
The basilica was built in the style of a Spanish fortress. A flower-decked statue of the Virgin Mary stood at the entrance of the church. People prayed to the statue, put roses at the feet of the statue and proceeded to the mass.
Some touched the statue's clothing and wept. Feng Chun-chin (馮春琴), 56, a Saisiyat Aboriginal woman, said she has attended the mass celebrating the church's founding every year.
"But this year we have fewer people here," said Feng, wearing traditional tribal clothing and a colorful headband. "I remember this place was packed with people for last year's mass."
The church building was too small to accommodate the huge congregation, so tarpaulins and thousands of stools were set up in the spacious garden behind the basilica for the service.
Tu Hsiu-ling (杜秀玲), a 26-year-old woman from the Paiwan tribe in Pingtung's Machia Township, agreed attendance was down from last year.
While followers of Taoism and Buddhism number more than 8 million in Taiwan, only some 298,000 Taiwanese are Catholics, according to the latest statistics from the Government Information Office (GIO).
The number of Protestants in Taiwan is nearly double the Catholic population, standing at 593,000. In Taiwan, Protestantism and Catholicism ranked No. 4 and No. 5 in terms of religious populations, according to the GIO.
While major religions in the country have been expanding their influence through the media by launching TV channels, radio programs and newspapers, conservative Catholic congregations have been silently aging and struggling to retain young people.
The acute need for more clergymen is another problem facing the nation's Catholics, said Ching Mei-sheng (景美生), 32, who is of Han-Paiwan origin and serves as a church secretary in a village in Machia.
A priest from the Philippines has been tending the seven village churches in Machia. Ching said the priest, having learned the Paiwan dialect, can only preach in a single village church every Sunday.
"Therefore, the other six churches were left without a priest on most Sundays. They can only have our priest in turn, which means they hear him preach only every one or two months," Ching said.
Reverend Ruben Martinez, a Spaniard appointed as the 25th priest for Wanchin Basilica last year, recognized the shortage of Catholic clergymen in Taiwan, but stressed evangelization is a task that must be shared by all believers.
Martinez, like his 24 predecessors, speaks fluent Hoklo, commonly referred to as Taiwanese, but knows little Mandarin. All Wanchin residents, consisting primarily of the Pingpu people, or plain-dwelling tribes, speak Hoklo, Martinez said.
Coming to Taiwan 14 years ago, Martinez learned Hoklo in Kaohsiung and served in Tainan for eight years. He started working for the basilica four years ago.
"All services in our church, including mass and children's catechism classes, are conducted in Taiwanese [Hoklo]," Martinez said.
Outreach activities in Wanchin and neighboring villages are easier because Catholicism has a solid historical background in the area, he said.
Local Aboriginal people said that in the past food and household goods delivered by Catholic priests created a strong incentive for them to go to church and accept the faith.
Martinez said Catholic churches in the country, though lacking financial support, have always been thinking of how to reach more young people.
"We have to first find out what people of this generation need and provide help," he said.
Many people in modern society suffer family problems, Martinez said. "We will think about how to help these families."
Supporting the 80-year-old Cardinal Paul Shan (單國璽), who presided over the mass, Martinez did not appear downhearted by this year's smaller congregation. He joyfully shared the basilica's plan for next year's mass.
A nun in her 60s who wanted to be known as Sister Yang said the traditional Catholic approaches to attract young people were time-consuming and ineffective.
Responsible for the outreach ministry of her church in Kaohsiung, Yang, who became a nun at the age of 20, said the church needs to lead the young generation in ways they can accept.
Born to a Catholic family, Yang said she started yearning for the life of a nun after reading the autobiography of Saint Teresa of Lisieux when she was a high school student.
As a young girl, Yang did not like to dress up or watch movies.
Yang said her difficult life as a nun has given her the patience and capacity to help others.
"My church also lacks young people and the congregation is aging," she said.
Nevertheless, she vowed to keep looking for ways to bring young people back to the Lord.
Comments will be moderated. Keep comments relevant to the article. Remarks containing abusive and obscene language, personal attacks of any kind or promotion will be removed and the user banned. Final decision will be at the discretion of the Taipei Times.