Taiwan's new satellite on its way
HANDLE WITH CARE A carefully wrapped ROCSAT-2 was taken to CKS International Airport yesterday and will arrive in Los Angeles today. It will be launched on Jan. 17
Taiwan's second satellite, ROCSAT-2, which left the National Space Program Office (NSPO) in Hsinchu yesterday, is expected to be launch-ed on schedule in six weeks from California. \nA trailer with cushion facilities took the 750kg satellite, packaged in a 2,100kg container displaying Taiwan's flag, to CKS International Airport in Taoyuan. \nNSPO spokesmen said yesterday that a China Airlines Boeing 747 would carry the satellite and related equipment, weighing 14,295kg, directly to Los Angeles today. After the flight of just more than 10 hours, it will take another six hours to move the satellite by truck to Vandenberg Air Force Base. \n"All the way to the base, vibration has to be limited to a certain level," Chern Jeng-shing (陳正興), program manager of the ROCSAT-2 project, said at a press conference held before the satellite left Hsinchu yesterday. \nA team of NSPO scientists and engineers arrived at the base yesterday to prepare for the launch on Jan. 17. \nSince last Thursday, when the satellite was wrapped, nitrogen has been injected into the container to ensure stable conditions for the long journey. \nAccording to Bobby Yu (余萃眾), general manager of China Airlines' cargo sales and services department, the airline's midway station in Anchorage, Alaska, would be bypassed to minimize the risks. \nRichard Shen (沈成), general manager of Global Fritz Logistics Services, said special customs arrangements were made to facilitate the transportation. \nWhen it arrives at Vandenberg Air Force Base, the satellite will be thoroughly tested for three days. The satellite will be coupled with a Taurus rocket, a four-stage, ground-launched vehicle, at a launch site operated by Orbital Sciences Corp, and should be ready at least 13 days prior to the launch. \nTaiwan chose to launch the ROCSAT-2 from the US instead of India, which offered a half-price deal. \nThe launch services in the US cost about NT$ 1.3 billion, according to the NSPO. \nLee Lou-chuang (李羅權), president of National Applied Research laboratories and NSPO director, said that putting ROCSAT-2 into orbit would have been impossible had it not been for the integration of governmental resources and private efforts from the space industry. \n"ROCSAT-2 satellite will be the first to observe rare phenomena like lighting-induced red sprites, upwardly discharging blue jets and gigantic jets," Lee said. \nBeing different from its predecessor, ROCSAT-1, which was launched in January 1999 and had a strictly scientific purpose, ROCSAT-2 will also have more down-to-earth applications involving remote-sensing technologies. \nNSPO officials stressed yesterday that the ROCSAT-2 project, costing NT$4.7 billion in total, would further enhance Taiwan's abilities to predict natural disas-ters and map state-owned land. It will be able to take clear pictures of objects on the ground as small as 2m across. \nThe satellite is designed to orbit the earth 14 times a day, including two passes over Taiwan, 891km above the earth's surface. \nRepresentatives of the Astrium Company of France, the NSPO's main contractor on the ROCSAT-2 project, said yesterday that everything had gone according to plan since the cooperation began in November 1999.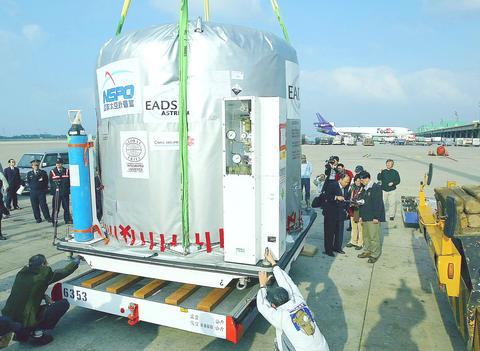 Taiwan's second satellite, ROCSAT-2, was taken to CKS International Airport yesterday, wrapped in a nitrogen-filled container weighing more than 2 tonnes.
PHOTO: TONY YAO, TAIPEI TIMES
Comments will be moderated. Keep comments relevant to the article. Remarks containing abusive and obscene language, personal attacks of any kind or promotion will be removed and the user banned. Final decision will be at the discretion of the Taipei Times.