Aborigines call Chen twelve names
Pro-Democratic Progressive Party (DPP) members of Taiwan's 12 Aboriginal tribes yesterday formed an "Aboriginal Knights of the Round Table" to support President Chen Shui-bian's (陳水扁) bid for a second term.
Hundreds of tribal representatives gathered yesterday in Taipei to express gratitude to President Chen for implementing policies promoting the welfare of Aboriginal communities during his time as president.
Dressed in rain shoes and headscarves, the representatives said they wanted to acknowledge the president's sincerity in visiting each of the tribes.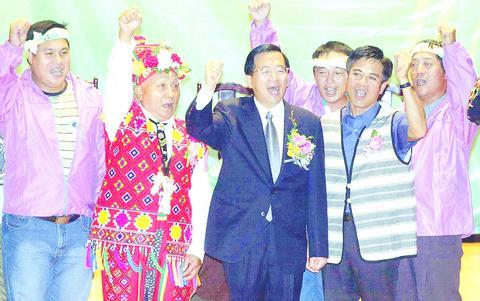 President Chen Shui-bian yesterday attends a campaign rally held in Taipei by the ``Aboriginal Knights of the Round Table'' -- a group formed by representatives from Taiwan's 12 aboriginal tribes.
PHOTO: CHIANG YING-YING, TAIPEI TIMES
"We are here to announce that President Chen is a member of each tribe and that all 12 tribes will honor the president with a name in each of our languages," said an Aboriginal elder.
Amis representatives granted the president the name of "Mahengheng," which means a warrior who never concedes defeat and always triumphs in battle. Atayal representatives chose "Qebuta," which means a hero who leads the people to a new paradise, while Paiwan representatives selected "Tanuvak," used to mark a warrior who excels in defense.
Bunun representatives chose the name "Kavaslavian," which signifies a hero who hunts the heads of enemies and advances the tribe, while Rukai representatives called the president "Pacak," honoring him as a supreme king.
Tao representatives offered the name "Simagalelaw" in praise of the president.
Peinan representatives called the president "Kelalaw," the Tsou representatives used the name "Avay," and the Taroko tribe selected "Watan-rulung," each meaning that Chen was a brave warrior.
Saisiat representatives called the president "Kalahayta-in," meaning a master of supernatural power, while Kavalan representatives gave Chen the name "Padada-mes" in approval of his dedication to the country.
Finally, Thao representatives named Chen "Yaminasaw," meaning that the president was a member of their tribe.
"I am proud of being accepted as a member of your tribes today with these titles of honor. They illustrate the vitality of Taiwan's diverse cultures, and these are the most valuable assets the country possesses," Chen said.
Chen vowed to continue protecting Aboriginal cultures and to help Aboriginal people recover their tribal dignity.
"The more we value Aboriginal history and achievements, the sooner this country will reach a state of ethnic harmony," he said.
"And it is my duty to maintain an equilibrium between all tribes as well as other ethnic groups in the country to build a future for all," Chen added.
Chen then presented purple suits to the representatives to mark the founding of the organization.
Comments will be moderated. Keep comments relevant to the article. Remarks containing abusive and obscene language, personal attacks of any kind or promotion will be removed and the user banned. Final decision will be at the discretion of the Taipei Times.