Taiwan Business Alliance 2003: Press offensive launched
RED CARPET Some 30 media agencies from around the globe have been invited to Taiwan in an effort to spruce up the nation's international business image
The nation's largest trade promotion organization, the semi-official China External Trade Development Council (CETRA), is launching a major media offensive this week to alter international press perceptions of Taiwan's business environment, CETRA officials said yesterday.
Starting today for one week, 41 international correspondents from around 30 press agencies in countries as diverse as Japan, the US, France, Germany, Italy, Israel, Hong Kong, Singapore and Brazil have been invited to Taiwan at the expense of the government to visit Taiwanese business successes and to report on the 2003 Taiwan Business Alliance, a conference that aims to bring more foreign direct investment here.
"Taiwan has a very strong economy," Darren Burns, director of CETRA's Taiwan Product News Bureau, said yesterday. "It's the 14th largest trading economy in the world."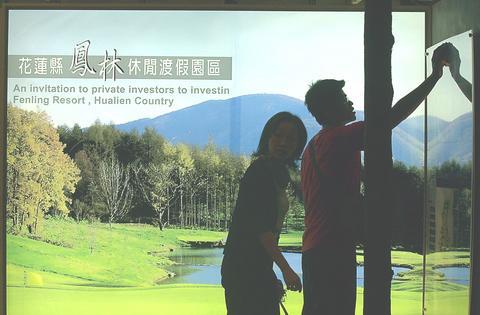 Workers spruce up the venue of the 2003 Taiwan Business Alliance Conference at the Taipei International Convention Center yesterday.
PHOTO: GEORGE TSORNG, TAIPEI TIMES
But Taiwan suffers from what Burns termed a "perception-reality gap," as the nation is often associated with low-technology, low-value mass production. In fact, Taiwan is the world's fourth largest producer of information technology (IT) and communications products, and leads the world in many areas of production.
"Taiwan is responsible for putting [flat-screen liquid crystal display] monitors on everyone's desktop these days," Burns said.
"Taiwan has helped cut costs while keeping the quality the same. They make things faster, more affordable and easier to assemble," he said.
To drive home the point, the journalist delegation is scheduled to visit AU Optronics Corp (友達光電), the world's third-largest maker of flat panels for slim displays and televisions, United Microelectronics Corp (UMC, 聯電), the world's second largest producer of made-to-order computer chips, Giant Manufacturing Co (巨大機械), the world's largest bike-maker under the brand Giant (捷安特), and Taiwan brands Acer Inc and BenQ Corp (明基電通), among others. The packed schedule also includes visits to the nation's two largest high-technology showcases, the Hsinchu and Tainan science-based industrial parks, and research and development centers.
The government's official press agency is expected to be working overtime during next week's events.
"Our mission is slightly different from others, in that it is to report to the world as quickly as possible about events in Taiwan," said Su Cheng-ping (蘇正平), chairman of the Central News Agency.
The agency plans to issue press releases in Chinese eight times daily, English five times a day, and French, Spanish and Japanese twice a day during the three days of the business alliance, Su said.
Ahead of next year's general election, and faced with dismal investment figures last year -- the government's own statistics show direct investment dropped by 36 percent last year to US$3.27 billion, but UN figures from last month paint a gloomier picture, saying investment plummeted 65 percent to just US$1.4 billion -- various government departments have cooperated closely on promoting this week's investment conference.
"We already have 1,900 registered visitors and among them more than 1,100 are from overseas," CETRA president Chao Yung-chuan (趙永全) told the Taipei Times yesterday.
"This is the first event like this we have had, so many people are curious to see [what it is], but I would say it is also because all government departments have tried their best to invite interested parties, so it's a joint effort," he said.
Comments will be moderated. Keep comments relevant to the article. Remarks containing abusive and obscene language, personal attacks of any kind or promotion will be removed and the user banned. Final decision will be at the discretion of the Taipei Times.