AEC urged to complete radioactive-rebar probe
Legislators criticized the Atomic Energy Council yesterday for delays in inspecting 2,000 buildings in northern Taiwan that may have been constructed using radioactive reinforcing bars. \nAccording to Taiwan Solidarity Union (TSU) Legislator Cheng Chen-lung (程振隆), there are 2,054 apartments and shops in northern cities and counties on the list of buildings that may contain contaminated reinforcing bars. \nAt a press conference yesterday, Cheng attacked the council for inefficiency in assessing the threat the contamination was posing to the public. \n"Some of these apartments and shops in buildings suspected of being contaminated with radioactive reinforcing bars are still rented to people unaware of the situation," Cheng said. \nAccording to Cheng, because selling buildings that may be contaminated is illegal, most owners rented out apartments or shops to people who didn't know about the dangers. \n"The AEC should finish the verification work as soon as possible because both renters and shoppers are unaware of their exposure to danger," Cheng said. \nCheng said his own investigation team visited some of the possibly contaminated buildings in downtown Taipei and discovered that they now contained a popular restaurant, a shopping mall and a buhsiban. \nCheng said about 0.5 percent of those suspected of being contaminated were verified as containing radioactive reinforcing bars. \n"This suggests that there are about a dozen of these contaminated buildings yet to be identified," Cheng said. \nAEC officials said yesterday that speeding up the detection work relied on the cooperation of the buildings' owners but that laws passed earlier this year would force owners to agree to inspections. \nAccording to the council, the contaminated reinforcing bars were used in buildings constructed between 1982 and 1984 in Keelung City, Taipei City, Taipei County and Taoyuan County. \nMore than 70 percent of these buildings have been examined. Early this year, the council estimated that there are 2,911 apartments and shops awaiting assessment. \nThe council said it had notified owners of the buildings that free inspections for the presence of radiation were available. \nTo ensure consumers' rights, the council has information about buildings containing contaminated reinforcing bars on its Web site.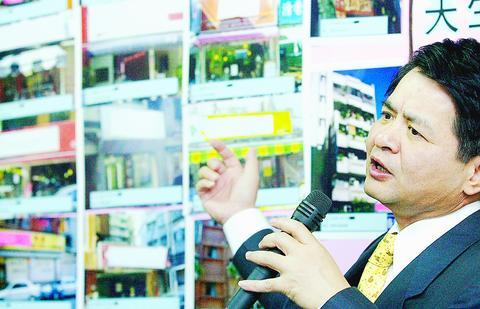 Taiwan Solidarity Union Legislator Cheng Chen-lung speaks on buildings containing contaminated reinforcing bars in Taiwan.
PHOTO: SEAN CHAO, TAIPEI TIMES
Comments will be moderated. Keep comments relevant to the article. Remarks containing abusive and obscene language, personal attacks of any kind or promotion will be removed and the user banned. Final decision will be at the discretion of the Taipei Times.