Foreign brides irk lawmakers
IMMIGRATION A group of DPP lawmakers says foreign brides, particularly those from Vietnam, are abusing immigration rules and milking the system for its generous social benefits
A group of DPP legislators yesterday urged the government to reassess its immigration policy in a bid to prevent foreign spouses from abusing the system and generating social problems in the country.
"Given the culture and language differences, many foreign brides find it hard to assimilate into Taiwanese society," DPP Legislator Tang Huo-shen (湯火聖) said at a joint press conference held with colleagues Chien Chao-tong (簡肇棟), Lin Yu-sheng (林育生) and Su Chih-fen (蘇治芬).
"As a result, a social storm is slowly taking shape in Taiwan with issues concerning their children's education, property inheritance, broken homes and the like," Tang said.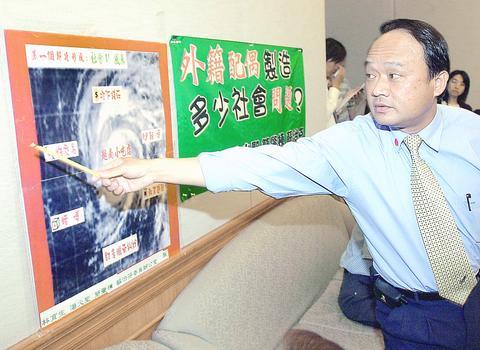 DPP Legislator Tang Huo-shen holds a press conference with several colleagues yesterday to raise awareness of the ``storm'' of social problems associated with foreign brides and to urge the government to reassess its immigration policy.
PHOTO: FANG PIN-CHAO, TAIPEI TIMES
The legislators said many Southeast Asian brides, casting greedy eyes on Taiwan's comfortable living, have taken advantage of the nation's lax immigration rules to gain citizenship and thus enjoy all the rights and benefits citizens enjoy such as national health insurance and social welfare.
"Such cases are especially frequent with foreign brides from Vietnam, who blatantly ignore law and order but seek immigration loopholes to earn citizenship not just for themselves but also for their kin back home," Tang said.
According to Tang, there are numerous cases of Vietnamese spouses who, after obtaining citizenship through marriage to Taiwanese, demand an immediate divorce. They then remarry Vietnamese laborers working here before taking them, along with kin from Vietnam, to apply for citizenship in this country.
"This is not only unjust to Taiwanese husbands victimized by these marriages, but these cases also generate many tricky issues such as broken homes, children's education, property inheritance and the like," Chien said, urging the government to heighten its immigration regulations to prevent false marriages, especially as numerous foreign spouses have in the past turned out to be prostitutes.
Su also urged the government to strengthen its consultation services for foreign brides to help them to become more acquainted with the country.
According to a report presented by Minister of the Interior Yu Cheng-hsien (余政憲) at a Cabinet meeting last month, as of the end of last year, more than 87,000 foreign women had married Taiwanese.
In terms of nationality, Vietnamese formed the largest group of foreign brides, totaling 42,713 at the end of last year, followed by Indonesians at 10,662.
Other countries who have at least 1,000 women married to Taiwanese men were Thailand, the Philippines, Cambodia and Malaysia.
Comments will be moderated. Keep comments relevant to the article. Remarks containing abusive and obscene language, personal attacks of any kind or promotion will be removed and the user banned. Final decision will be at the discretion of the Taipei Times.