Activists condemn chicken slaughter
HEALTH THREAT The nation's traditional markets lack both the facilities and the equipment to cleanly kill and process the millions of chickens sold there each year
Public health is being jeopardized by unsound slaughter regulations which allow the consumption of nearly 4 million unhealthy chickens a year, activists from animal conservation and environmental groups said yesterday. \nThe activists told a press conference in Taipei that the 170 million domestic chickens consumed each year in this country are slaughtered in traditional markets under unhygienic conditions. \nThey said only 5 percent of the poultry are electrically slaughtered under conditions that meet the Chinese Agricultural Standards (CAS), a system that ensures the safety of agricultural products. \nIn the US, the activists said, about 2.3 percent of inferior slaughtered poultry meat would be thrown out. \n"It implies that each year 3.91 million unhealthy chickens, which deserve to be thrown away, are eaten by consumers," said Chen Yu-min (陳玉敏), director of the Environment and Animal Society of Taiwan (EAST, 動物社會研究會). \nEAST members spent months making a documentary about chicken slaughtering in traditional markets -- and they said they were appalled by the lack of division between live chickens and killed ones. \n"Most chickens have their throats cruelly cut by sharp knives and then are thrown into boiling water to remove their feathers before they have even breathed their last breath," said Shih Wu-hung (釋悟泓), an EAST activist. \nDisplaying photos and videotapes, activists said that waste-water contaminated by chicken giblets, feathers, chicken feces and blood was arbitrarily discharged in the markets. \n"If the government doesn't regulate the slaughter of chickens, we're afraid that bird flu will hit Taiwan sooner or later," Chen said. \nTwo cases of bird flu reported in Hong Kong last week raised fears of another epidemic such as the one in 1997 that killed six people, forced the mass slaughter of millions of birds in the territory and briefly caused alarm about the possibility of a global epidemic. \nChen said that the bird flu virus is likely contracted by direct contact with chicken feces. \nJong De-shien (鍾德憲), associate professor of animal science at the National Taiwan University, told the press conference that a clear division is required at slaughtering plants between chicken carcasses, the gutted internal organs and waste matter. \nChen also said the frequent smuggling of poultry and agricultural products between Taiwan, China and Hong Kong have made this nation very vulnerable. \nChen criticized the government for excluding chicken slaughtering from the Husbandry Law (畜牧法), which took effect in June 1998. The law regulates the slaughter of cattle, sheep and pigs. \nThe activists said that the Control Yuan should investigate the Council of Agriculture (COA) for its neglecting duties. \nThe COA's Bureau of Animal and Plant Health Inspection and Quarantine issued a press release yesterday afternoon, noting that 160 million broilers being slaughtered each year are examined and, on average, about 3 percent of them were discarded for not meeting standards. \nThe statement said that since last year the bureau has promoted the electronic slaughter of chickens and provides technical assistance to people who want to establish new slaughter houses. \nThe statement did not address the request to include poultry slaughter in the Husbandry Law.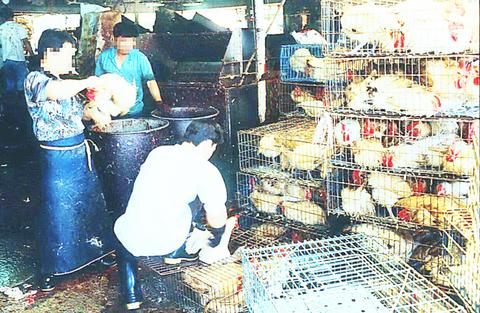 Poultry vendors slaughter chickens in a traditional wet market. Members of the Environment and Animal Society of Taiwan held a press conference in Taipei yesterday to criticize the Council of Agriculture and related agencies for not enforcing more sanitary chicken-slaughtering conditions.
PHOTO: THE ENVIRONMENT AND ANIMAL SOCIETY OF TAIWAN (EAST)
Comments will be moderated. Keep comments relevant to the article. Remarks containing abusive and obscene language, personal attacks of any kind or promotion will be removed and the user banned. Final decision will be at the discretion of the Taipei Times.