MOE ban on KK phonetics ruinous: Sun
BAFFLING BABBLE Sun Ta-chien says school kids are resorting to Bopomofo in a bid to make sense of English -- a move he says is having a disastrous result on their studies
Primary school kids are using unwieldy Mandarin phonetics in their English-language textbooks after the Ministry of Education ruled out teaching young pupils KK (Kenyon & Knott) symbols, a lawmaker claimed yesterday. \nAt a press conference, PFP Legislator Sun Ta-chien (孫大千) held up a Taipei sixth-grader's English textbook full of Zhuyin Fuhao (注音符號, commonly known as Bopomofo) to illustrate how students are learning pronunciation following the ministry's launch of natural phonetics in primary schools. \nWith natural phonetics, students learn English through listening to and speaking the language rather than through memorization and using KK phonetic symbols to pronounce English words. \nSun said that the pupils, unable to memorize pronunciation without the help of KK symbols, marked Bopomofo characters under almost every English word in the textbook. \nIn one example, the pupil jotted down eight Bopomofo characters and two English letters under the English phrase, "Let's go in and have a look." \nTaken phonetically, the sentence read: "Lai Tzu Kou m Hai F Erl Lu Ko" -- far from the correct pronunciation of the sentence, Sun said. \n"This is only one example in this pupil's English textbook. Examples like this fill the whole book. The student even reads `and' as `m,'" Sun said. \nPointing at other examples in the book, Sun said, "The way this kid assembles Bopomofo symbols to show English pronunciations is really beyond my imagination." \n"The pupil is very inventive. But the reason he has resorted to this method is because he has never been taught KK phonetic symbols," Sun said. \n"Without other means to help him pronounce English, he can only use this method," he said. \nThe ministry decided to adopt natural phonetics in primary schools because it considers KK phonetic symbols too difficult for fifth and sixth-graders to grasp. \nSun said that he is very concerned about the future of the nation's English education because more and more primary school students are learning English using Bopomofo. \n"The natural phonetics approach is only effective in English-speaking countries. In those countries, students speak correct English without learning KK phonetic symbols because they practice the language in their daily lives," Sun said. \n"But Taiwan is not an English-speaking country. Students forget the pronunciations after classes. Why should we copy the teaching methods of English-speaking countries? It is simply unrealistic," Sun said. \nArjay Lin (林正捷), a primary school English teacher from Hualien County, said half of his pupils are learning English with the help of Bopomofo. \n"I try very hard to ask my pupils to read aloud after me in every class. We only have one hour for English every week. As we don't teach KK phonetic symbols, most students forget the pronunciations after class," he said. \nDeniro Lin (林世慶), a junior-high school English teacher, said that it is still necessary to teach primary school students the KK method. \nAccording to Deniro Lin, the English proficiency of his first-grade students has polarized. \nThose who can afford to attend private language schools find KK phonetic symbols boring, whereas students who have never learned the symbols hardly know how to pronounce English, Deniro Lin said. \nMeanwhile, Chen Ming-yin (陳明印), senior chief of the the ministry's Department of Elementary and Junior High Education, said the ministry will consider whether to teach KK phonetic symbols in primary schools.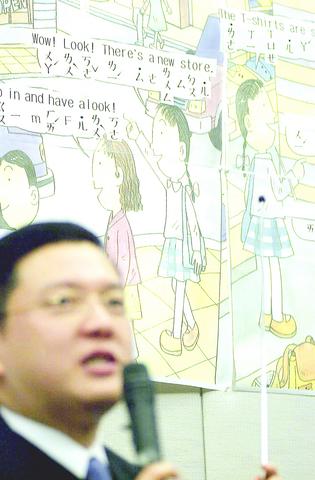 Enlarged copies of a sixth-grader's English textbook were displayed at a press conference called yesterday by PFP Legislator Sun Ta-chien. Sun said many primary school students are using Bopomofo to help them memorize the pronunciation of English words, which is impeding their learning.
PHOTO: SEAN CHAO, TAIPEI TIMES
Comments will be moderated. Keep comments relevant to the article. Remarks containing abusive and obscene language, personal attacks of any kind or promotion will be removed and the user banned. Final decision will be at the discretion of the Taipei Times.