New arrivals boost interest at bird-watching reserve
More than 7,000 birds have migrated to Taipei's Huajiang Wild Duck Nature Park since the beginning of this year, the Wild Bird Society of Taipei (WBST) said yesterday. \nThe park, the largest habitat of migrational birds in northern Taiwan, is located at the point where the Hsintien River flows into the Tamshui River and covers an area of more than 11 hectares. \nThe period to observe migrational birds in the park starts in September and lasts until April, however, most birds start arriving between December and February. \nThis year's Huajiang Wild Duck Season officially kicked off at the park yesterday, drawing more than 1,500 bird watchers. \n"This year, green-winged teals make up the majority of the birds who have come here. The second, third and fourth largest groups are northern shovelers, pintails and Eurasian wigeons," said Tseng Guo-fang (曾國藩), president of the WBST. \nAccording to Tseng, rare birds such as the brown hawk howl, the ruddy shelduck and the common shelduck have been spotted in the park. \n"The birds are changing feathers for the summer now. Their bright, new feathers will be very useful in the breeding season," Tseng said. \nThe ruddy shelduck is usually found in southeast Europe and across Asia. The species' numbers have declined in the western part of its habitat. \nThe ruddy shelduck lives in Taiwan between October and April while its breeding season begins in March. The bird usually nests in holes in the ground or in trees. \nMeanwhile, Huang Jung-feng (黃榮峰), director of the city's Bureau of Reconstruction, praised the WBST's dedication to promoting bird watching and conservation in the area since it was set up 1989. \n"To cooperate with the WBST's efforts to conserve the area, the city government established the park in January 1996," Huang said, adding that now people can watch birds that have travelled from Siberia to the park.
A flock of ducks that are spending the winter in Taiwan take a well-earned rest under the Huachiang Bridge on the first day of the annual Huachiang bird watching season yesterday.
PHOTO: CHIANG YING-YING, TAIPEI TIMES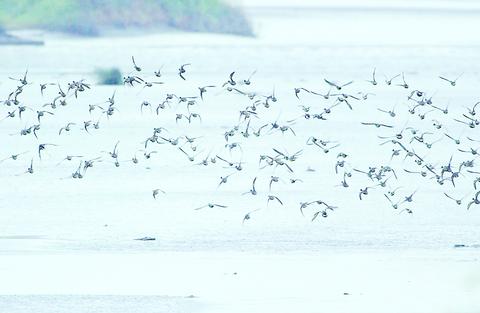 A flock of birds take to the skies at the Huajiang Wild Duck Nature Park in Taipei County yesterday.
PHOTO: CHIANG YING-YING, TAIPEI TIMES
Comments will be moderated. Keep comments relevant to the article. Remarks containing abusive and obscene language, personal attacks of any kind or promotion will be removed and the user banned. Final decision will be at the discretion of the Taipei Times.