Hernangomez's late block helps Nuggets edge champs
Juancho Hernangomez's swooping right-handed swat was precisely the right stuff to help the Denver Nuggets stay unbeaten.
Turns out, this high-scoring Nuggets team can play a little defense, too.
Hernangomez on Sunday blocked a tying layup from behind just before the buzzer as the Nuggets held off the Golden State Warriors 100-98.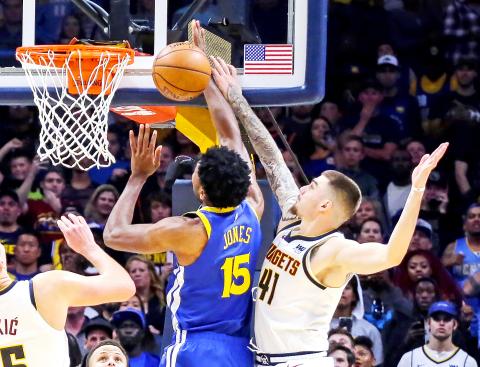 Juancho Hernangomez of the Denver Nuggets, right, blocks a shot by Damian Jones of the Golden State Warriors in their NBA game in Denver, Colorado, on Sunday.
Photo: AP
Trailing by 13 points in the fourth quarter, the Warriors rallied and had a chance to tie it in the closing seconds. Stephen Curry drove down the lane and passed to big man Damian Jones, who had his shot swatted away by Hernangomez.
"Huge," said Gary Harris, who finished with 28 points.
The Nuggets improved to 3-0, despite missing 18 free throws, including six in the final quarter.
The 3-0 start is Denver's best since the 2009-2010 squad led by Carmelo Anthony and Chauncey Billups began 5-0.
The victory was driven by defense. Denver was sluggish on the offensive end in the second game of a back-to-back, but turned up the defensive intensity.
The Nuggets forced 18 turnovers.
Denver have held all three teams they have faced to fewer than 100 points.
"If we defend, we can pretty much outscore everyone in this league. Defense is really our main focus this year," Nuggets forward Torrey Craig said.
That was music to coach Michael Malone's ears.
"This is how I envision us playing. Some people may call it ugly, but a win is a win, especially against that team — the reigning champs," Malone said. "If we continue to defend at the level we're defending at and we get our offensive rhythm going, I think we could be a really good team."
Nikola Jokic had 23 points, 11 rebounds and six assist in his bid for a triple-double on a second straight night.
No surprise, Curry hit three straight three-pointers in a 1 minute, 11 second span to lead the comeback. He finished with 30 points and had six three-pointers to move him past Paul Pierce for sixth place on the NBA career list.
Draymond Green had a chance to tie the game at 99-99 with 9.6 seconds remaining, but his second free throw rolled out.
Jamal Murray made one of two free throws at the other end to make it 100-98 and set the stage for Hernangomez, who was engulfed by teammates soon after his swat.
"That was a great play by, um, Juancho, right? It was a great block by him," Kevin Durant said. "You've got to give him credit. Steph made a huge play, dropped it off. Can't ask for anything better."
Asked if he had thought about pulling up for a three-pointer, Curry responded: "No. I didn't think about it this time. I was going downhill when I crossed court, and I saw the lane wide open and realized what the score was. I liked our chances from there, but it didn't work out that way."
Comments will be moderated. Keep comments relevant to the article. Remarks containing abusive and obscene language, personal attacks of any kind or promotion will be removed and the user banned. Final decision will be at the discretion of the Taipei Times.