Tai claims Denmark Open title
SETTLING FOR SILVER: Chou Tien-chen fell short of his fourth title of the season after battling for 77 minutes against Japanese world No. 1 Kento Momota
Taiwanese badminton ace Tai Tzu-ying on Sunday captured the women's singles title at the Denmark Open in Odense, while world No. 4 Chou Tien-chen had to settle for a silver medal in the men's singles.
World No. 1 Tai defeated the world No. 10 Saina Nehwal of India 21-13, 13-21, 21-6 in a match that lasted 52 minutes.
In the first game, Tai warmed up quickly to lead 6-1 and eventually cruised to 21-13, before Nehwal put up a strong fight to the win the second game 21-13, pushing the match into a decider.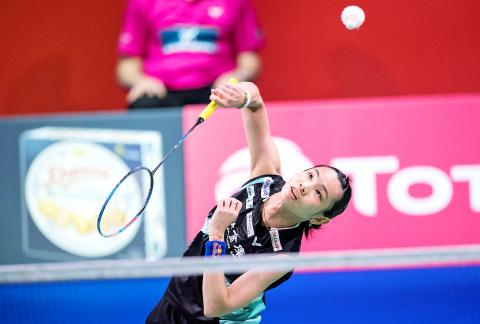 Taiwan's Tai Tzu-ying returns to Saina Nehwal of India in the Denmark Open women's singles final in Odense on Sunday.
Photo: Reuters
It was in the third game that Tai resumed her fierce offensive and won the game 21-6.
It was the Taiwanese player's 11th successive win against Nehwal.
"I am pretty excited because I enjoyed this tournament," Tai told the BWF World Tour Web site, admitting that Nehwal's second-game comeback had surprised her. "I didn't expect that. She played faster which caused me to make more mistakes, but I was confident I would win because I know what I can do."
In the men's singles final, Chou fell short of his fourth title of the year after battling for 77 minutes against Japanese Kento Momota in their ninth face-off, eventually falling to a 22-20, 16-21, 21-15 defeat to the world No. 1.
In a closely fought match, the two players were tied at 20-20 in the first game before Momota managed to edge Chou 22-20.
In the second game, Chou took an 11-4 lead and held off Momota 21-16, but the Japanese made a strong comeback in the third, defeating Chou 21-15 to take the title.
Although Chou had to settle for a silver medal, he was expected to rise to world No. 3 after his defeat of Danish player Anders Antonsen, Japan's Kanta Tsuneyama, and South Koreans Lee Dong-keun and Son Wan-ho at the Denmark Open.
Chou has won three men's singles titles so far this year, at the German Open, Singapore Open and Korea Open.
He defeated Ng Ka-long of Hong Kong in the final at the German Open in March, beat compatriot Hsu Jen-hao at the Singapore Open in July and crushed Tommy Sugiarto of Indonesia in two games at the Korea Open last month.
Chou is next due to compete in the French Open in Paris from today until Sunday.
The Denmark Open carried a total purse of US$775,000.
Comments will be moderated. Keep comments relevant to the article. Remarks containing abusive and obscene language, personal attacks of any kind or promotion will be removed and the user banned. Final decision will be at the discretion of the Taipei Times.