Asian Games: Taiwan critics pan team results
SECOND-BEST SHOWING: Despite the nation's athletes winning 17 gold, 19 silver and 31 bronze, some Taiwanese question the awarding of cash sums and the team results
As the closing ceremony yesterday wrapped up this year's Asian Games, sports officials and fans found the event a reason to celebrate, because Taiwanese athletes won 17 gold, 19 silver and 31 bronze medals, a total of 67.
Their achievements should be lauded by the whole nation, sports agencies and government officials are saying. It was the nation's second-best showing at the event, only surpassed by the 1998 Asian Games in Bangkok, Thailand.
The Sports Administration has announced that a total of NT$358.8 million (US$11.68 million) in prize money will be handed out to the winning athletes.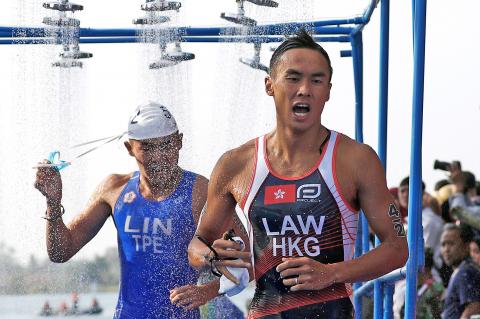 Lin Wei-chih of Taiwan, left, and Law Leong Tim of Hong Kong compete in the Asian Games mixed triathlon final at Palembang, Indonesia, yesterday.
Photo: Reuters
However, some critics are saying that, apart from praiseworthy results in several events, the nation's athletes failed to deliver at critical moments in the major team competitions, finishing third in men's baseball, behind Japan and South Korea, and arriving home without a medal in soccer or basketball.
Some also question giving out such considerable sums to elite athletes for a podium finish, saying that the money would be better spent on community sports development and better basic facilities for young people interested in taking up sports.
Netizen "jenny kam" said that "the NT$350 million will come out of the taxpayers' pockets, but they weren't consulted first."
Other netizens said the money would be better spent on health, education and school lunch programs in less well-off regions of the nation, or on road construction and other basic infrastructure projects in local communities.
Netizen "Pilli Q" said the money only goes to glorify "Chinese Taipei," but that he would have been happier if the nation was represented by athletes calling themselves "Taiwan."
The government and the sports agency have the wrong approach, sports critics said. The athletes at international competitions are fighting for individual honor, but lack quality facilities, good coaching and enough funding to pay for travel to major tournaments, they said.
One critic pointed out how soccer is the world's most popular and most watched sport, but the women's side, while making a good run for gold, were outclassed by South Korea 4-0 in the semi-final.
The critic added that the men's team were further outclassed. Even among the "minnows" of Asia, they could not secure a single goal in four games. They did not even advance out of group play. Even after a 0-0 draw against Palestine, they could not manage to win against Indonesia or Hong Kong, even losing to underdog Laos 2-0.
Comments will be moderated. Keep comments relevant to the article. Remarks containing abusive and obscene language, personal attacks of any kind or promotion will be removed and the user banned. Final decision will be at the discretion of the Taipei Times.