Asian Games: Slew of bronze as Games wind down
DREAM COME TRUE: South Korea's Son Heung-min earned his five-year deal with Tottenham Hotspur by assisting both of the goals his team needed to win gold
The penultimate day of the Asian Games yesterday saw four bronze medals for Taiwan, as well as a gold and two silvers in bridge, but disappointment in men's and women's basketball as both teams barely missed out on the podium.
The men's volleyball team climbed out of a 20-year rut to claim the bronze medal for the first time since the Bangkok Games with a 25-22, 25-23, 17-25, 25-16 win over Qatar in Jakarta.
"Taiwan has waited for 20 years [for a medal] and I have waited for this moment for a very long time," said Huang Chien-feng, who has played in three Asian Games.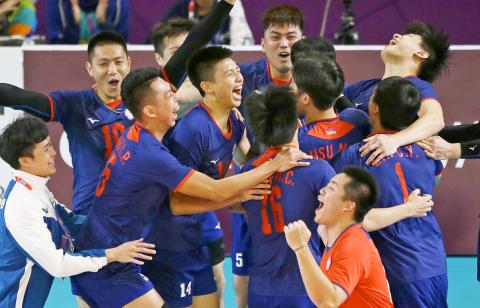 Taiwan celebrate defeating Qatar in the Asian Games men's volleyball bronze-medal match in Jakarta yesterday.
Photo: AP
Huang thanked his coach, saying that great teamwork was the key to their win.
"It felt great after being on the journey for 20 years," coach and former player Chen Yu-an said.
Chen said he felt that the team has good potential to win the gold and urged Taiwanese businesses to support volleyball and make it a commercial sport.
Taiwan's Chan Tzu-hsieh hits a two-run home run in the fourth inning of their Asian Games bronze-medal match against China in Jakarta yesterday.
Photo: Reuters
More clubs should encourage the sport and keep the momentum growing, instead of losing interest after the Games are over, he said.
The bronze medal wave did not stop there, as Taiwan claimed three more in baseball and soft tennis.
China proved an easy opponent for Taiwan's men, who gave up no runs in their 10-0 baseball victory.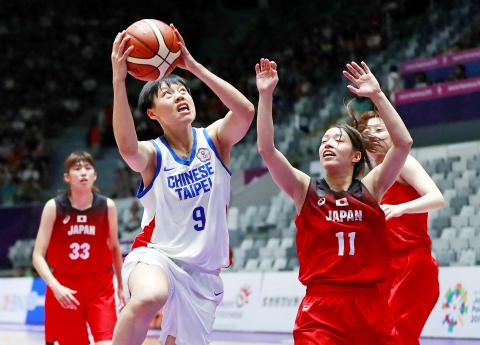 Taiwan's Huang Ping-jen, left, drives past Japan's Mio Shinozaki during their Asian Games women's bronze-medal match in Jakarta yesterday.
Photo: AP
The impressive performance was helped by starter Wang Tsung-hao's pitching, allowing only one hit in six innings before he was relieved.
Relief pitchers Wang Yu-pu and Chen Po-hao, who entered the game after the seventh, closed out the game one inning later.
Since baseball was introduced to the Games in 1994, Taiwan has won one gold medal, three silvers and three bronzes. The last time the team won gold was in 2006.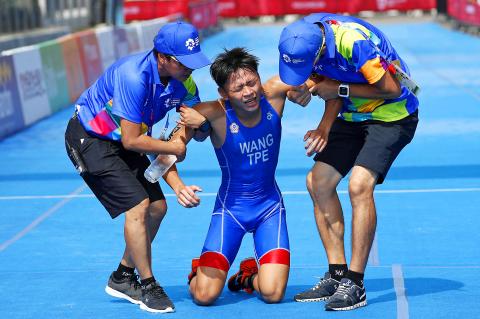 Wang Wei-kai of Taiwan is assisted after finishing the Asian Games men's triathalon final yesterday in Palembang, Indonesia.
Photo: Reuters
In the gold medal match, South Korea edged Japan 3-0.
Taiwan's men and women played mirror-image team soft tennis matches, defeating Japan 2-0 in both games.
The gold medal matches also featured the same nations, with South Korea and Japan facing off in both the men's and the women's competitions, but South Korea's men proved victorious, while Japan's women took the top of the podium.
The best results of the day were in contract bridge, with Taiwan's Yang Hsin-lung and Lu Yi-zu winning gold in the mixed pairs.
In the final two-round five results, Yang and Lu finished with a score of 363 points, beating their Taiwanese counterparts Fang Kang-wei and Tsai Po-ya, who earned silver with 357 points.
Wu Yu-fang and Tsai Wen-chuan also bagged silver after posting 385.8 points in the women's pair event, finishing behind Ran Jingrong and Wu Shaohong of China, who took gold with 408.7 points.
Taiwan won a bronze in the contract bridge supermixed team competition on Monday.
However, it was disappointment in basketball across the board, as Taiwan's men fell in a close battle with South Korea 89-81, and the women lost to Japan 76-63.
In the women's gold medal game, China dashed Unified Korea's hopes when they won a tense final 71-65.
China repeated the feat in the men's final, winning 84-72 over Iran after a stunning comeback spearheaded by substitute Abudushalamu Abudurexiti, an ethnic Uighur from Xinjiang Province.
Lim Yung-hui top-scored with 24 points in a losing cause, as China pulled away from 38-38 at halftime before holding off Korea in the final quarter.
Park Ji-su was tearful after the game as Unified Korea came up short.
"As a player ... I am disappointed," Park said, breaking into tears. "All our teammates played very well. It was a close game."
Her teammate Lim Yung-hui and coach Lee Moon-kyu said that the squad, which only came together days before the Games, did not have enough time to practice together.
"We could have gotten a gold medal... We tried our best," Lim said.
In one of the most anticipated events of these Games, South Korea pulled out a dramatic win over Japan in the men's soccer final in Cibinong, West Java, ensuring that Tottenham Hotspur's Son Heung-min is to stave off military service.
All goals in the 2-1 result came after regulation, with Son assisting both Lee Seung-woo's 93rd minute goal and Hwang Hee-chan's 101st minute addition.
Japan's Ayase Ueda answered with his own in the 115th minute, but the Blue Samurai were ultimately unable to equalize.
Asian Games gold ensures that Son will be exempted from serving his mandatory two-year military service in South Korea, and will be able to see out his new five-year deal with the Spurs.
Additional reporting by AFP
Comments will be moderated. Keep comments relevant to the article. Remarks containing abusive and obscene language, personal attacks of any kind or promotion will be removed and the user banned. Final decision will be at the discretion of the Taipei Times.