Chan sisters win doubles final in HK
BATTLE OF WILLS: Singles champion Caroline Wozniacki said her match against Kristina Mladenovic was a mental battle, as she was uncertain how badly her opponent was hurt
Taiwan's Chan sisters claimed their third WTA Tour doubles title of the year at the Hong Kong Open yesterday, while Caroline Wozniacki was victorious in the singles.
Chan Hao-ching and Chan Yung-jan took just 62 minutes to see off the challenge of British duo Naomi Broady and Heather Watson as they cruised to a 6-3, 6-1 victory.
The top seeds saved five of six break points and converted five of 14, winning 57 of the 95 points contested to seal their third title of the season after victories in Kaohsiung and Doha earlier this year.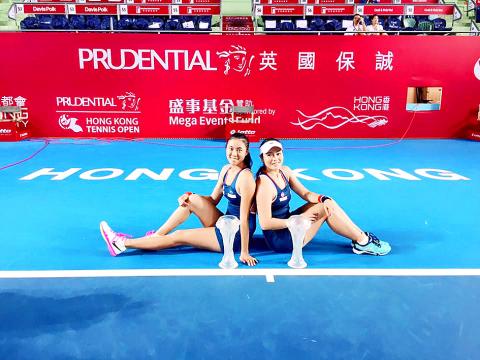 Chan Hao-ching, left, and Chan Yung-jan yesterday sit on center court after winning the Hong Kong Open doubles final.
Photo courtesy of Chan Yung-jan's Facebook page
"Although it is the end of the season and we are very tired, very happy this week with the smooth victory," Chan Yung-jan wrote on Facebook.
"I want to congratulate our opponents. You have had a fantastic year, you are in the top five in the world for a reason and you were too good for us tonight, so well done," Broady told BT Sport.
The victory ensures that the Chan sisters, fifth in the WTA Tour's Road to Singapore rankings, will appear at the season-ending WTA Finals which start on Sunday in Singapore. The doubles competition is scheduled to begin on Oct. 27.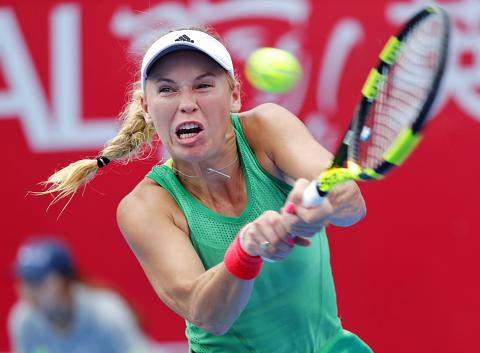 Denmark's Caroline Wozniacki yesterday returns to France's Kristina Mladenovic in their Hong Kong Open final.
Photo: AP
"Less than two weeks until the year-end finals in Singapore, hoping to arrive in the best physical and mental state," Chan Yung-jan wrote.
In the singles final earlier yesterday, former world No. 1 Caroline Wozniacki beat unseeded French challenger Kristina Mladenovic after a battle of wills that lasted almost three hours.
Wozniacki of Denmark, seeded fifth in the competition, stormed the first set 6-1 with Mladenovic visibly despondent and limping slightly.
The 23-year-old Frenchwoman emerged in the second set with her right leg bandaged and with a renewed focus, forcing Wozniacki to dive around the court with a combination of drop shots and powerful drives.
The set went to 6-6, with Mladenovic sealing the tiebreak 7-4 to go even.
Spectators around the packed stadium waved paper fans constantly on a hot and humid afternoon, with temperatures at 30oC.
Dressed all in green, a determined Wozniacki, 26, finally sealed victory in the third set. A tired Mladenovic was ultimately unable to match the Dane's power and consistency.
Frequently bending to lean on her racquet between points, the Frenchwoman was in tears as she desperately tried to fight back after Wozniacki took a 5-0 lead.
Wozniacki eventually took the final set 6-2.
"I am really pleased with my week this week — there was some good tennis and long battles," Wozniacki said.
The Dane said the final had been a mental battle, as it was unclear to her how badly Mladenovic was hurt.
"It was not easy mentally, because sometimes she would look like she could not play, and then she would run like Speedy Gonzalez — clearly it is not that bad if you can run side to side. There was definitely a mental game. I just happened to win it," she said.
Wozniacki herself has battled back from injury and has had a resurgent run of form in the past two months, reaching the semi-finals of the US Open and winning the Pan Pacific Open in Tokyo.
She is still without a Grand Slam title to her name and said it was her ambition to win one.
"It is the only thing missing from my CV," she said.
Wozniacki had downed seventh-seeded Jelena Jankovic, also a former world No. 1, to book her finals place.
Mladenovic had been aiming for her first WTA title — it was the third time she had made a singles competition final only to lose.
She told reporters she had struggled with exhaustion and a hamstring injury during the final after a week of long matches, as well as suffering in the heat and humidity.
"I was not coming out fresh and when you play someone like Caroline, who is running down every point, you have to fight," she said, adding that she was sad and frustrated during the match.
"It was very difficult. I have no idea how I made it to three sets," she added.
Venus Williams and current world No. 1 Angelique Kerber went out earlier in the competition.
TIANJIN OPEN
AFP, BEIJING
China's Peng Shuai yesterday won the first WTA Tour title of her career, beating the US' Alison Riske to secure the Tianjin Open.
Peng — listed as 182nd in the world by the WTA — beat the 56th-ranked American 7-6 (7-3), 6-2 in 1 hour, 45 minutes.
Riske's victory in the 2014 Tianjin Open remains her only WTA Tour win.
This year's event has total prize money of US$426,750.
At the semi-finals earlier in the day, she knocked out world No. 8 Svetlana Kuznetsova 6-4, 5-7, 6-4 in a grueling encounter lasting 2 hours, 30 minutes with the Russian two-time Grand Slam champion and second seed.
Peng, 30, had defeated Montenegro's Danka Kovinic 3-6, 7-5, 6-3 to make it to the finals.
China has hosted an increasing number of WTA tournaments as it seeks more clout in the game.
Comments will be moderated. Keep comments relevant to the article. Remarks containing abusive and obscene language, personal attacks of any kind or promotion will be removed and the user banned. Final decision will be at the discretion of the Taipei Times.