Super Mario scores in Milan victory
Mario Balotelli broke out of his seven-month scoring slump with a beautiful free-kick as AC Milan held on for a 3-2 win over Udinese in Serie A on Tuesday.
Starting for the first time since rejoining Milan on loan after a dismal season at Liverpool, Balotelli curled the ball into the top corner after five minutes. The temperamental striker let out a rare celebratory smile as he was mobbed by his teammates.
Asked about the rare smile, since he usually shows no emotion after scoring, Balotelli said: "I'm always the same. In the changing room and in life I'm a completely different person from the one described for years [by others]."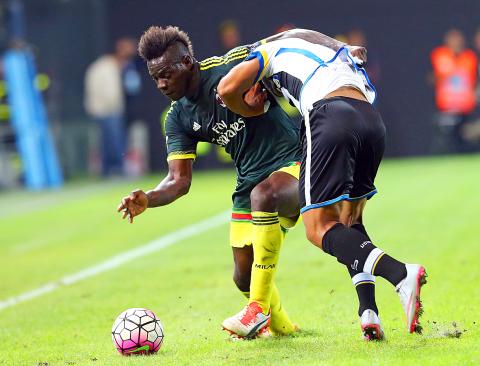 AC Milan's Mario Balotelli, left, and Ali Adnan of Udinese vie for the ball during their game at the Stadio Friuli in Udine, Italy, on Tuesday.
Photo: AP
"Little by little I'm knocking the weight off my shoulders, because over the last few years between Italy and England too much has been said of me, but I've remained silent," Balotelli added. "I'm behaving well in the changing room and I have good relationships with my teammates."
Having scored only one goal in the Premier League last season, Balotelli is looking to revive his career and regain his place in Italy's squad for next year's European Championship.
"He showed that the real Balotelli is back and that he knows how to deal with being provoked," new Milan coach Sinisa Mihajlovic said. "He was perfect. We all know about his skills and today he was the best player on the pitch — both for his play and for his behavior."
"He made the difference, but he's got to continue like this because it's just the start," said Mihajlovic, a free-kick specialist himself as a player. "Compliments to [Milan vice president Adriano] Galliani, because he got a strong player at zero cost."
Giacomo Bonaventura doubled the lead five minutes after Balotelli's opener and Cristian Zapata added another for the visitors in first-half stoppage-time.
Emmanuel Badu and Duvan Zapata scored for Udinese early in the second half.
"We conceded two stupid goals, but we fought until the end, so compliments to my teammates," Balotelli said.
A yellow card later in the first half appeared to slow him down.
"I'm still happy with my performance," Balotelli said, adding that he is getting used to defenders attempting to provoke him. "Well either they get a yellow or my legs, but they don't see the ball."
Milan moved level third with ACF Fiorentina, three points behind leaders Inter, who beat the the Rossoneri 1-0 in the Milan derby nine days earlier.
Having lost four straight matches after stunning four-time defending champions Juventus 1-0 in their opener, Udinese remained near the bottom with just three points.
In Udine, Balotelli got his first start since a match in April against Hull City and his first league goal since February in Liverpool's 3-2 win over Tottenham Hotspur.
Balotelli had already showed signs of a revival when he came off the bench and hit the post in the derby and he now appears to have solidified his place in Milan's attack alongside either Carlos Bacca or Luiz Adriano — both also new signings.
Including his first spell with Milan, Balotelli has scored 18 of his 27 goals with the Rossoneri from dead-ball opportunities.
Milan captain Riccardo Montolivo set up the second goal with a long vertical pass, which Bonaventura controlled well with his chest then fired in with his next touch.
Cristian Zapata scored with a long, off-balance header following a corner, managing to find the target even with his momentum carrying him away from the goal.
As impressive as the first half was for Milan, the second period was a near disaster.
Badu's goal came from the center of the area and Duvan Zapata redirected a cross in by the far post as Milan's defense left open some gaping holes.
Udinese had late chances to equalize, but the pressure fizzled out after midfielder Bruno Fernandes picked up his second yellow in stoppage-time.
Comments will be moderated. Keep comments relevant to the article. Remarks containing abusive and obscene language, personal attacks of any kind or promotion will be removed and the user banned. Final decision will be at the discretion of the Taipei Times.