NBA star Jeremy Lin arrives in Taiwan
AVAILABLE: The point guard is expected to become an unrestricted free agent from tomorrow after his three-year, US$25 million Los Angeles Lakers contract expires
Jeremy Lin, the first NBA player of Taiwanese descent, outlined his practice plans in preparation for next season upon his arrival in Taiwan yesterday.
The Los Angeles Lakers point guard said at a press briefing that he had just come off a three-and-half-week rest period and had begun private training.
Following the advice of legendary point guard Steve Nash, Lin said he would be working to improve his three-point shooting rate to 40 percent, and strengthen his defense against pick and roll.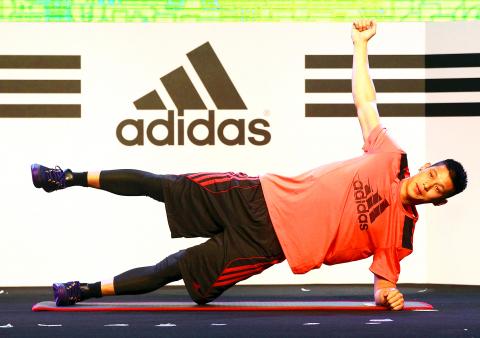 Jeremy Lin of the Los Angeles Lakers demonstrates his training methods at a promotional event in Taipei yesterday.
Photo: Pichi Chuang, Reuters
Arrving at about 1am yesterday morning to dozens of cheering fans at Taiwan Taoyuan International Airport, the 26-year-old is scheduled to stay in Taiwan for a week as part of an Asian tour.
As he did last year, Lin is to spend some time coaching at a basketball camp that is expected to be attended by 60 high-school basketball players from around the nation.
On Saturday, he is due to meet about 600 fans at National Taiwan University gymnasium in Taipei.
Yesterday, he said that his top choice of a teammate from the 2014-2015 All-NBA First Team lineup would be New Orleans Pelicans forward Anthony Davis.
"Wherever I throw the ball in the air, he will dunk it," Lin said at a press briefing in Taipei, explaining why he would select Davis, the 2012 top overall pick from the University of Kentucky.
Davis, 6-10, ranked first in the league in blocks (2.94 blocks per game), fourth in scoring (24.4 points per game), seventh in field-goal percentage (53.5 percent) and eighth in rebounding (10.2 rebounds per game) last season.
He was selected to the First Team in May, along with fellow forward LeBron James of the Cleveland Cavaliers, guards Stephen Curry of the Golden State Warriors and James Harden of the Houston Rockets, and center Marc Gasol of the Memphis Grizzlies.
The Pelicans forward led his team to the playoffs last season for the first time since 2011 and he finished with a league-leading player efficiency rating of 30.8 — the 11th highest in the history of the NBA — on his way to being named an All-Star starter for the first time in his career.
Lin also said that he was impressed by the tactics developed by coaches Gregg Popovich of the San Antonio Spurs and Doc Rivers of the Los Angeles Clippers.
"There are two coaches in the NBA who are very smart — Greg Popovich and Doc Rivers," Lin said.
Although the two renowned head coaches play a lot of pick and rolls in their offensive sets, they can still set up other "creative" plays after each timeout, Lin said.
However, Lin said that his former coach, Mike D'Antoni of the New York Knicks, remains his favorite in the NBA because his own playing style best fits D'Antoni's run-and-gun offense.
Lin rose from obscurity to stardom after leading the struggling New York Knicks to a seven-game winning streak in 2012.
He has just completed a one-week visit to China, where he attended basketball camps and gave TV interviews.
The point guard is expected to become an unrestricted free agent tomorrow after his three-year, US$25 million contract expires at the end of the season.
In an interview in China, Lin said he would choose a team that would be suitable for his playing style and might give him a chance to be in the starting lineup.
Comments will be moderated. Keep comments relevant to the article. Remarks containing abusive and obscene language, personal attacks of any kind or promotion will be removed and the user banned. Final decision will be at the discretion of the Taipei Times.