Brazilian surfer dies after shooting
Brazilian professional surfer Ricardo dos Santos died on Tuesday in a hospital after being shot three times outside his home in the nation's south, allegedly by a police officer.
The 24-year-old was attacked on Monday morning near the city of Florianopolis, when he went outside to confront an off-duty policeman and the policeman's younger brother in front of his house.
However, police collected conflicting reports about whether Dos Santos asked the men to leave when he spotted them doing drugs or whether he was shot while discussing a car they had parked on his property.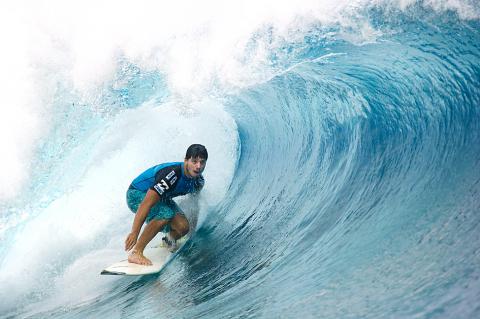 A handout photograph provided by the Association of Surfing Professionals shows Brazilian Ricardo dos Santos surfing at an undisclosed location on Aug. 27, 2012.
Photo: EPA
Dos Santos underwent four surgeries at the Sao Jose Regional Hospital, before dying on Tuesday afternoon.
"Ricardito, you did not deserve this... Why did this happen to a good person? I don't understand," surfer Gabriel Medina, current World Tour champion and a friend of Dos Santos, posted on Instagram.
Florianopolis military police are holding officer Luis Paulo Mota Brentano, 25, on suspicion of murder.
"He claimed self defense. He said the victim tried to attack him, and he defended himself," Marcelo Arruda, who is leading the case, told G1 Globo news portal.
The officer, who was on vacation, said Dos Santos threatened him with a knife, although Arruda said that police at the scene found no knife.
The case is being investigated by military and civilian police, who are awaiting autopsy results to help reconstruct the incident.
Dos Santos, a Qualifying Series surfer, had participated in numerous international competitions, where surfers vie for a place in the World Tour.
Comments will be moderated. Keep comments relevant to the article. Remarks containing abusive and obscene language, personal attacks of any kind or promotion will be removed and the user banned. Final decision will be at the discretion of the Taipei Times.