Pacquiao tours, no sign of fight with Mayweather
Manny Pacquiao and Chris Algieri are on a two-week, globe-trotting tour to promote their welterweight title fight in November, but the match the world truly wants to see looks further away than ever.
When Pacquiao met the press in Macau on Monday, questions about his elusive megafight with the undefeated American Floyd Mayweather Jr met with a sharp response.
"Who's that?" Pacquiao joked, when Mayweather was mentioned by reporters.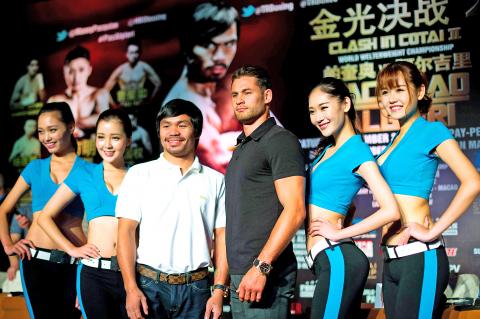 Philippine boxing icon Manny Pacquiao, third left, and Chris Algieri, third right, of the US pose with ring girls during a pre-fight press conference yesterday in Shanghai, China.
Photo: AFP
Pacquiao's hall-of-fame trainer Freddie Roach was less jovial, conceding bluntly that the two boxing legends, both in the twilight of their glittering careers, may never be seen in the same ring.
"We can't waste our time waiting for him," Roach said. "We've done everything we could to make that fight happen. It's like, we're available if he's interested in it, but again, we can't sit around waiting for him."
Eight-division world champion Pacquiao's next date is a WBO welterweight title defense against the undefeated WBO junior welterweight titleholder Algieri on Nov. 23 in Macau's Cotai Arena.
The pair were in Macau on Monday and Shanghai on Tuesday, and they will move on to promotional events in San Francisco, Los Angeles, Las Vegas and New York in the next 12 days.
In 2010, Pacquiao and Mayweather were close to agreeing a fight between the two greatest boxers of their generation, which could potentially have generated a record US$300 million in pay-per-view revenue.
However, it fell through because Mayweather was unhappy with Pacquiao's drug-testing procedures in training.
That issue receded after Pacquiao agreed to Olympic-style testing, and the Philippine icon expressed his frustration that a Mayweather clash has still moved no closer after getting his career back on track with comprehensive victories in the past nine months over Brandon Rios and Timothy Bradley.
"The possibility to fight with him, you know, the question is not for us," Pacquiao said. "It's for them because any time, we are willing to fight, any time. I think that question belongs to them, their camp."
The biggest hurdle that remains — and it is a huge one — is the animosity between Pacquiao's promoter, Top Rank founder and chief executive Bob Arum, and Mayweather's Golden Boy promotions, who have deals with rival pay-per-view networks HBO and Showtime respectively.
Arum on Monday said that HBO and Showtime had to "find a way to promote and satisfy both sides from a legal basis" before the biggest money-spinning fight in the sport's history could be agreed.
He added that the TV rivals had expressed a desire to achieve a deal, but said that the final decision lay with Mayweather and Golden Boy, who have shown no intent of late to get around the table.
"With Showtime and HBO wanting the fight and Manny wanting the fight, there is one little step to take and that's to see where Floyd stands," Arum said.
Even if there were to be a sudden thawing of relations between the two camps, the earliest a fight could take place is late next year.
Mayweather has a rematch against Marcos Maidana next month and Pacquiao faces Algieri in November before a likely fifth blockbuster fight against Juan Manuel Marquez, who knocked out Pacquiao in 2012.
"Hopefully, we can put Marquez in with Pacquiao next year," the 82-year-old Arum said.
However, the reality is that Mayweather-Pacquiao may never come to fruition. Pacquiao is due to retire at the end of his current deal with Top Rank in 2016, when the congressman from Sarangani will be 37.
Mayweather, who is already 37, has a perfect 46-0 record. Assuming Mayweather, who is also tipped to fight Britain's Amir Khan early next year, remains unbeaten, he is unlikely to want to risk his dream of equalling Rocky Marciano's career mark of 49-0 against "Pacman" this time next year.
That just leaves one, extremely remote, possibility for the two to appear in the same ring. Should both be unbeaten through the end of next year, they could provide a fitting end to their careers in early 2016 by settling the argument once and for all.
A victory for Mayweather would take him to the magical 50-0 mark, a win for Pacquiao would cement his place as one of the greatest boxers not just of his own generation, but of all time.
The world wants it, Pacquiao wants it and, according to Arum, HBO and Showtime want it. The lucrative payday would dwarf anything the sport has seen before.
It is a quarter-of-a-billion-dollar question.
Only "Money" Mayweather knows if he can be tempted to give the right answer.
Comments will be moderated. Keep comments relevant to the article. Remarks containing abusive and obscene language, personal attacks of any kind or promotion will be removed and the user banned. Final decision will be at the discretion of the Taipei Times.