Rory McIlroy in a familiar spot in PGA Championship
Rory McIlroy is making this PGA Championship feel like 2000 all over again at Valhalla.
Back then, it was Tiger Woods who was making the game look easy as he started to pile up majors. Now it is McIlroy, who produced superior shots with his long game and made all the right putts on Friday for a four-under 67 that gave him a one-shot lead over Jason Day and Jim Furyk.
Woods missed two short putts early and looked as if he should never have tried to play the final major of the year with a sore back. Two birdies on his last three holes only kept it from being worse. Woods shot another 74 and missed the cut in a major for the fourth time.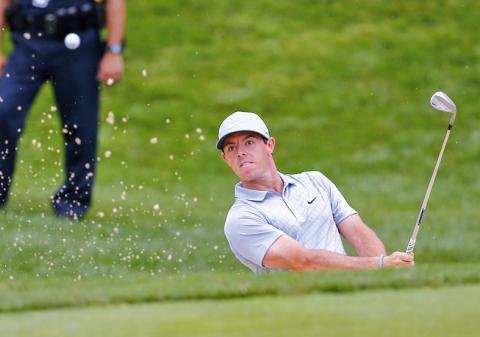 Rory McIlroy hits out of a bunker at the PGA Championship in Louisville, Kentucky, on Friday.
Photo: EPA
Oddly enough, McIlroy opened with the exact same scores (66-67) as Woods did 14 years ago at Valhalla, when he barely outlasted Bob May in a playoff for his third straight major of the season.
McIlroy, who was at nine-under 133, is not nearly at that stage, and his competition is a little more experienced.
Furyk, a former US Open champion who was runner-up last year at the PGA, got up-and-down from behind the green on the par-five 18th for birdie and a 68. Moments earlier, Day capped off the best round of a soggy day with a birdie on the 18th for a 65. Day has three runner-up finishes in the majors. Right behind were Ryan Palmer (70) and Rickie Fowler (66), a runner-up in the last two majors.
Comments will be moderated. Keep comments relevant to the article. Remarks containing abusive and obscene language, personal attacks of any kind or promotion will be removed and the user banned. Final decision will be at the discretion of the Taipei Times.