Last-ranked Chii Lih Coral break Bankers in 7-1 upset victory
Last-placed Chii Lih Coral of Taitung pulled off a major upset in Popcorn League action yesterday afternoon by crushing top-ranked Taiwan Cooperative Bank 7-1 at the Taichung Intercontinental Baseball Stadium.
Having dropped two straight against the Bankers in their weekend series, Chii Lih Coral made sure they would not be swept by the league-leaders as they teed off against Banker starter Tseng Chun-yen with six runs in each of the first frames to take a 6-1 lead.
Tseng, who won two in a row before being chased after just 1-1/3 innings, may have been rattled by a defensive error that led to a pair of unearned runs in a three-run first as he served up two more runs in what ended up being a three-run second and his shortest outing of the season so far.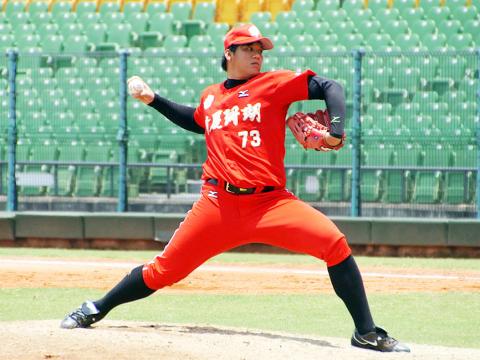 Chii Lih Coral's Wang Chun-hao yesterday pitches in their Popcorn League game against Taiwan Cooperative Bank in Greater Taichung.
Photo courtesy of the CTBA
Offensively for the victorious Chii Lih Coral, Lin Chu's three-hit effort led a lineup that rang up a dozen hits off the Bankers pitching to surprise the league-leaders.
Picking up his first win of the season was Chii Lih Coral reliever Wang Chun-hao, who entered in the fourth for starter Chuan Chi and held his ground by tossing a scoreless fourth and fifth before the three other hurlers combined for four innings of superb relief to deny the Bankers a comeback.
TRAINING CENTER 11, FALCONS 1
National Sports Training Center multiplied a 1-0 lead by 10 runs in the fourth and fifth to defeat the Topco Scientific Falcons at the Taichung Municipal Baseball Stadium yesterday afternoon and take the weekend set 2-1.
Chiou Hao-chun turned in one of his best efforts of the season by tossing one-run ball on four hits over seven innings to lead the Trainers past the Falcons.
Other than the solo homer he gave up to Falcons slugger Brahiam Maldonado, the righty out of Taipei's Chinese Culture University was on superb form, scattering three singles and fanning five.
Leading the way at the plate on an 18-hit day for National Sports Training Center were Dionys Cesar and Lin Ming-chieh, who collected four hits apiece with three combined RBIs.
TAIPOWER 9, VEETIME 5
Taipower broke a one-all tie open in a four-run sixth to lead 9-2 in the ninth before holding on to top Veetime at the Taichung Intercontinental Baseball Stadium last night to sweep the three-game road series.
Comments will be moderated. Keep comments relevant to the article. Remarks containing abusive and obscene language, personal attacks of any kind or promotion will be removed and the user banned. Final decision will be at the discretion of the Taipei Times.