CTFA to overhaul its youth soccer program in autumn
Due to the growing popularity of soccer at the grassroots level and in an attempt to catch up with international standards, new rule changes will result in games in the Taiwan Youth League (TYL) featuring teams of eight rather than seven players this autumn.
Organized by the Chinese Taipei Football Association (CTFA), TYL is the national youth soccer program with five age categories — under-18, under-15, under-12, under-10 and under-8.
"The change from seven to eight players for youth soccer will help better develop the game in Taiwan. We found in the past that players had trouble adapting to the 11-a-side format, which is the standard for advanced age categories," CTFA secretary-general Wang Sheau-shiun (王筱薰) said. "We have consulted on this with South Korea and Japan. They implemented eight-a-side some years ago and have reaped the rewards."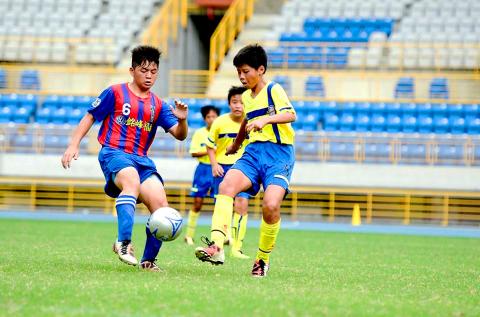 An undated photograph shows youngsters playing in a Taiwan Youth League match at the Taipei Municipal Stadium.
Photo: Courtesy of the Chinese Taipei Football Association
Wang was speaking following the conclusion of a CTFA review meeting held on Wednesday at Chang Jung Christian University in Greater Tainan, which was attended by youth soccer coaches and managers.
The TYL is divided into two halves, a Spring League and an Autumn League. The teams are either from schools or local amateur soccer organizations and they play regular TYL games in their home city or county. There is also a national championship for each age category at the end of the spring and autumn leagues.
Another change will be the introduction of relegation and promotion due to increasing number of teams wishing to join the TYL.
Wang said starting this autumn, when there will be more than 10 teams signed up in each region in the different age categories, each league will be divided into two groups.
At the end of Autumn League, the bottom-placed team in Group A will be relegated to Group B, while the top team in Group B will be promoted, he said.
"This way the teams will be closer with regard to the players' skills and the overall skill level, and it will provide more competitive games within both Group A and Group B, enhancing our youth soccer development," Wang said.
Comments will be moderated. Keep comments relevant to the article. Remarks containing abusive and obscene language, personal attacks of any kind or promotion will be removed and the user banned. Final decision will be at the discretion of the Taipei Times.