Ping Jen Senior High win to make PX Cup title game
Ping Jen Senior High School of Taoyuan County punched their ticket into the title game of the PX Cup yesterday afternoon with a convincing 7-2 win over Chiayi Senior High School at the Taoyuan International Baseball Stadium.
The defending champs wasted little time getting to Chiayi starter Huang Yong-pu, with Lin Li drawing a leadoff walk off Huang and scoring two batters later on a two-out double by Fan Guo-chen to take a quick 1-0 lead.
After the underdogs from Chiayi managed to even things up with a run of their own off Ping Jen starter Wang Tseh-chun in the third, the local boys struck again in the fourth, this time on the strength of a double down the third-base line by Peng Ming-yu. They then tacked on a pair of runs each in the fifth and sixth to claim a 6-1 advantage.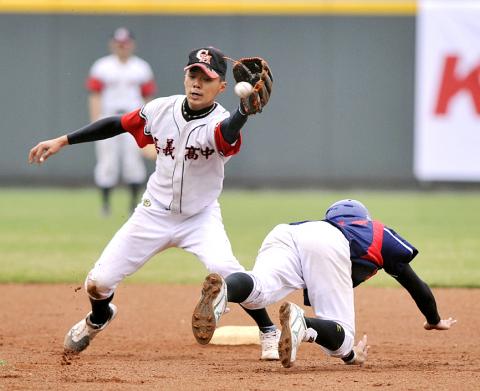 Chiayi Junior High School's Chen Chung-ting, left, catches the ball as Lin Lee of Ping Jen Junior High dives during their PX Cup match in Taoyuan yesterday.
Photo: Chen Chih-chu, Taipei Times
Even though Chiayi mustered an unearned run off Ping Jen reliever Soong Wen-hua to pull within four of the defending champs, Soong calmly retired all but one of the final 10 batters he faced over the last three frames to pick up the win.
Leading the Ping Jen attack was Fan, who went a team-high two-for-three with a double and an RBI. He also scored two of the seven runs that Ping Jen dialed up off a Chiayi staff that needed four hurlers to stop the Ping Jen hitters.
Taking the loss was Chiayi starter Huang who allowed two runs on three hits and three walks over 3-1/3 innings of play.
Kao Yuan 8, Nan Ying 3
Ying Teh-rong's perfectly executed suicide squeeze capped a four-run eighth that broke a 3-all tie wide open for Kao Yuan Vocational Senior High School as they beat Nan Ying Vocational Senior High School to reach today's title game in yesterday's second showdown.
Comments will be moderated. Keep comments relevant to the article. Remarks containing abusive and obscene language, personal attacks of any kind or promotion will be removed and the user banned. Final decision will be at the discretion of the Taipei Times.