London 2012 Olympics: China's Lei Sheng claims foil gold as Europeans fall
Lei Sheng became the first Chinese man to win the Olympic men's foil gold, overcoming a brave bid from Egypt's Alaaeldin Abouelkassem in the first final of the event since 1900 not to feature a European.
"I did not expect this, I was not thinking about this," Lei, who prevailed 15-13, said through an interpreter with his pristine medal around his neck.
Lei forged an early 6-2 lead, but Abouelkassem hit back. At one point he led 13-11, but Lei, who placed eighth at the 2008 Beijing Games, regained his composure to triumph.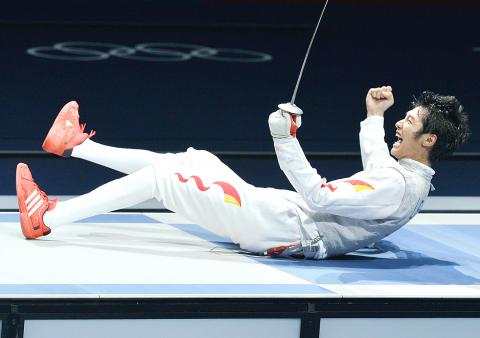 China's Lei Sheng celebrates defeating Egypt's Alaaeldin Abouelkassem in the final of the men's foil at the Excel Centre in London on Tuesday.
Photo: AFP
The 28-year-old, ranked ninth in the world, had beaten former world champion Andrea Baldini in the semi-final.
Abouelkassem, who beat two former world champions, was equally amazed to be standing on the podium, the first fencer from Africa to do so.
Byungchul Choi of South Korea took bronze.
Much was expected of Italy's men's foil team, but they failed to match their female counterparts, who enjoyed a clean sweep of the medals on the opening day.
Baldini's path to the Games was longer than most, having tested positive for a banned diuretic before the Beijing Olympics.
He protested his innocence and fencing's world governing body noted an Italian prosecutor deemed an unidentified third party was responsible for his unknowingly ingesting a banned substance. Sanctioned with ineligibility for six months, he returned to win the 2009 world title.
"Yes, every match was very physical. I felt a lot the stress, not just from today, but the last four years, to think about being here at the Olympics. Yeah, I am tired," he said through a translator, adding he would try again at the 2016 Games in Rio de Janeiro.
Abouelkassem, born to an Algerian mother and Egyptian father, said he feared most of all facing Baldini in the bronze-medal match, using that motivation to beat Choi 15-12 in the semi-finals and head for the gold medal match against Lei.
"I still cannot believe it. I had to take 15 minutes to realize what I did. I am very happy," he said of his silver medal.
"It was a dream of my dad and he left me three months ago," the 2010 junior world champion said in reference to the death of his father.
Asked how important this medal was for his country, Abouelkassem said: "Not just my country, but the whole of Africa. They need this medal to improve the fencing in Africa. Also in Egypt, we need more money and attention from [the] media."
Earlier, fencing's world governing body said it had offered South Korean Shin A-lam a special medal following her controversial elimination from the women's epee semi-final on Monday.
"The FIE [Federation International d'Escrime] will give an FIE medal to Shin A-lam," a spokesman said.
The exact date, location and who would make the presentation have not yet been decided.
"It will probably occur during the Olympics," the spokesman added, giving the first official indication that the FIE recognized there was a problem with their timing systems.
The inscription is to say: "For aspiration to win and respect of the rules."
On Monday, a weeping Shin staged a one-hour protest and had to be physically escorted off the piste following her loss to Germany's Britta Heidemann.
Her protest created one of these Games' more unsightly images of an athlete slumped over and distraught, but forced to endure the eyes of more than 7,000 spectators while sitting alone on a dramatically spot-lit piste, pristine in her white uniform.
The row erupted when two double-touches were recorded with a second to go and Shin thought she had triumphed. However, a single second was put back on the clock after some discussion.
Heidemann then unleashed a blistering surge forward, hitting Shin while also avoiding her blade.
At a press conference on Tuesday, South Korean Olympic Committee president Park Yong-sung said that the FIE recognized there were issues with their timekeeping and apologized to Shin.
The FIE also praised Shin for competing in the bronze-medal match, which she later lost to China's Sun Yujie.
"I spoke to the FIE today. They never expected this kind of thing to happen in the last second, three attacks. Their timekeeping machine is only in seconds, not points of a second," Park said. "Because of this system design they could not handle the situation correctly yesterday [Monday], that they admit."
Comments will be moderated. Keep comments relevant to the article. Remarks containing abusive and obscene language, personal attacks of any kind or promotion will be removed and the user banned. Final decision will be at the discretion of the Taipei Times.