LONDON 2012 OLYMPICS: FEATURE: Britain's other sports bask in Olympic shadow
At the same time as athletes from around the world are taking part in the London Olympics, millions of Britons will be indulging in popular summer sports that you will not see at the Games.
Cheese-rolling, caber-tossing, bowls, golf and cricket have little in common except for their origins in Britain's parks and village greens — and the fact that they are excluded from Olympian glory.
On a typical rainy British summer afternoon, members of the Finchley Bowls Club in north London emerge from the clubhouse, around 8km from the park where the Olympic Games will be held.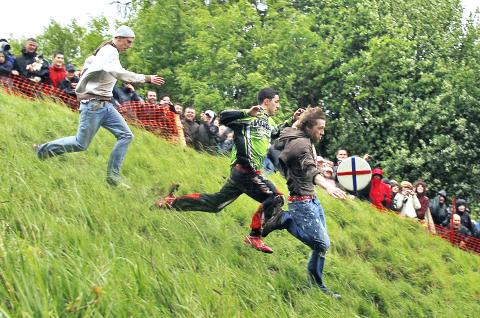 Competitors throw themselves down Coopers Hill in pursuit of a round Double Gloucester cheese on May 26, 2008, in the annual cheese rolling and wake near Gloucester, England.
Photo: AFP
"We play in all weathers, including rain," says Ron Raymond, the club president. "We play if there's a cloudburst. We only stop if the grass is waterlogged, and that's because we don't want to damage the green."
Just down the road in this leafy enclave, which former British prime minister Margaret Thatcher once represented in parliament, is the Finchley Cricket Club. Finchley Golf Club is a similar distance in the other direction.
Bowls, cricket and golf are just three of a wide array of non-Olympic sports that are popular here.
A competitor holds his cheese aloft after winning a race on May 26, 2008, near Gloucester, England.
Photo: AFP
In London, there are more than a dozen places for playing croquet — the deceptively genteel, but in reality viciously competitive, game in which players knock balls through hoops with a mallet.
Then there is polo, which also involves hitting a ball with a mallet, except on horseback. The rules of the game and its original headquarters in Britain, where it was imported from India, were in Hurlingham, southwest London.
Across town from Hurlingham is Lord's, the spiritual home of cricket.
On a summer weekend in most English country villages, the type with thatched cottages and with handpumped ale in the pub, the thwack of leather on willow from a cricket match can be heard somewhere nearby.
Cricket last made a brief Olympic appearance 112 years ago — and the closest it will get this year is when Lord's hosts the Olympic archery competition.
Earlier this year, the International Cricket Council (ICC), the sport's world governing body, said it was considering a bid to have cricket's shorter Twenty20 form return to the Olympics.
"We have never had a format that would lend itself to playing in the Olympics until Twenty20 came to the fore," ICC chief executive Haroon Lorgat said.
The ICC was officially recognized as a federation by the International Olympic Committee in 2010, meaning the ICC can bid to join the 2020 Games.
Meanwhile, bowls is played at the Commonwealth Games, where Rob Weale of Wales and Natalie Melmore of England won the men's and women's singles titles respectively in New Delhi in 2010.
In Scotland, dozens of Highland Games meetings from May to next month feature specialties such as caber-tossing — the throwing of a huge wooden log — and tug of war.
Highland Games meetings share a similarity to the Olympics in that they are multi-sports events, although they also feature dancing and classes for playing the bagpipes.
"Highland Games have a long history and there's still a lot of interest all over the world," said Ian Grieve, secretary of the Scottish Highland Games association, which represents 60 events in towns and villages across Scotland. "I would like to think that holding the Olympic Games in Britain might have a positive impact for Highland Games, though so far I haven't seen any evidence of it."
"We definitely get a positive spin off when the Open Golf is held in Scotland. Overall, I can't say we have seen a positive or negative effect," he said.
English regions have their own local sports, too, often big enough to run their own leagues. Quoits, which involves throwing hoops over posts sticking up from the ground, is especially popular in northeastern England.
Even more curious events include cheese rolling in Gloucestershire, southwest England, in which competitors chase a giant round of Double Gloucester cheese down a steep hill, risking injury.
Meanwhile, the wall game is played only at British Prime Minister David Cameron's old boarding school, the elite Eton College.
And when it is raining, Britons can step up to the oche for a game of darts, play snooker or they take on the players from the pub's dominoes team.
Back in Finchley, none of the bowlers are bitter about their sport's non-Olympic status, adding that they are looking forward to the Games.
"I'll certainly be watching, selectively," Ron Raymond said. "I like basketball and then there's the gymnastics, especially the floor exercises. You have to admire the hours of work they put in to be able to do it so well."
Comments will be moderated. Keep comments relevant to the article. Remarks containing abusive and obscene language, personal attacks of any kind or promotion will be removed and the user banned. Final decision will be at the discretion of the Taipei Times.