LONDON 2012 OLYMPICS: Sluggish US basketball team beat Brazil
The US men's basketball team eased past Brazil 80-69 in an exhibition game on Monday, but their sluggish play and spotty shooting should banish any thoughts they will waltz to another Olympic gold medal in London.
LeBron James scored 30 points to lead the US, who trailed by 10 after the first period and were outrebounded (38-30) and outhustled by their less-heralded counterparts.
"Our defense won the game," US coach Mike Krzyzewski said. "It was outstanding for three quarters, especially because we didn't hit shots, and we missed dunks. I liked the mental toughness of our team. We kept reminding them: 'We're not doing it on offense, don't let it affect defense,' and I thought it didn't."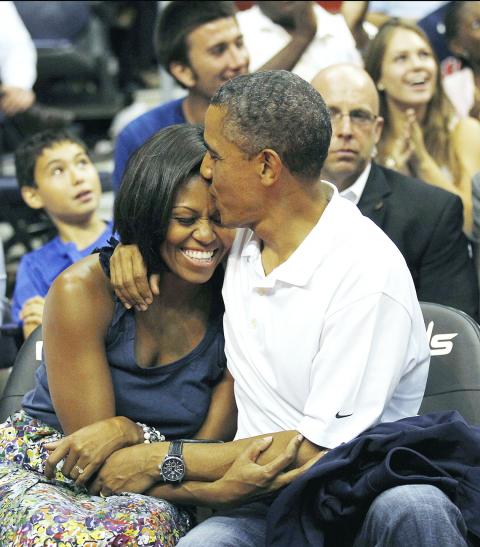 US President Barack Obama, right, kisses first lady Michelle Obama during the an Olympic men's exhibition basketball game between the US and Brazil in Washington on Monday.
Photo: Reuters
US President Barack Obama was in attendance, but he would not have been impressed with the US shooting as they hit only 29 of 71 from the floor, including six of 24 from three-point range.
While James hit 11 of 20 shots, his teammates were much less effective, Kobe Bryant managing only eight points and Carmelo Anthony just three for the US, who won Olympic gold four years ago in Beijing.
"We had open shots off the pick and roll, we just weren't making them," said US forward Kevin Durant, who came off the bench to score 11 points. "We've just got to keep working. Their defense didn't do anything different. We just missed shots, layups, dunks. We've just got to fight through it. We've got to stick with it and we'll be fine."
Brazil took advantage of the US' poor shooting and sloppy ball movement to take a 27-17 lead after the first period.
Twelve points in the quarter by former NBA guard Alex Garcia, including two from beyond the arc, silenced the Verizon Center crowd of nearly 20,000 anticipating a US blowout.
However, the US began running more efficiently and, anchored by James' seven points, outscored Brazil 20-5 in the second quarter to take a 37-32 lead into halftime.
An advantage in athleticism ultimately allowed the US to pull away in the second half.
Garcia led Brazil with 14 points, while Anderson Varejao of the Cleveland Cavaliers added 12.
Last week, the US squad opened their exhibition campaign in Las Vegas with a 113-59 rout of an outmanned squad from the Dominican Republic.
The US now leave for England to continue training ahead of the Olympics and they will face Britain in an exhibition at Manchester Arena tomorrow.
Obama met with the US squad at halftime and while Krzyzewski said it was just a social event, the coach was looking for a little presidential assistance.
"Afterwards, I had a chance to talk to him," Krzyzewski said. "I told him he should have told the guys they should start hitting some shots."
Earlier, the US women, winners of four straight Olympic gold medals, hammered Brazil 99-67 behind 21 points from Lindsay Whalen and 16 from Diana Taurasi.
Comments will be moderated. Keep comments relevant to the article. Remarks containing abusive and obscene language, personal attacks of any kind or promotion will be removed and the user banned. Final decision will be at the discretion of the Taipei Times.