LONDON 2012 OLYMPICS: Bus woes for athletes headed to Games
SIGHTSEEING: Australia's sailing team had to wait two hours for a bus, then it took a further two hours taking in Big Ben and Westminster Abbey as the driver got lost
Craig Kinsley, a rookie US javelin thrower, was smiling from ear to ear as he joined the first athletes dumping their bags at the Olympic Village on Monday.
"I've just updated my Facebook status," he said. "England, London, Olympic Village, heaven."
He might have been forgiven for being less upbeat — Kinsley was one of dozens of athletes from the US and Australia teams granted unplanned tours of Westminster Abbey and Tower Bridge when their buses from London Heathrow airport got badly lost on their way to the village, but neither that nor the wind and rain sweeping the Olympic Park in east London was going to dim Kinsley's enthusiasm.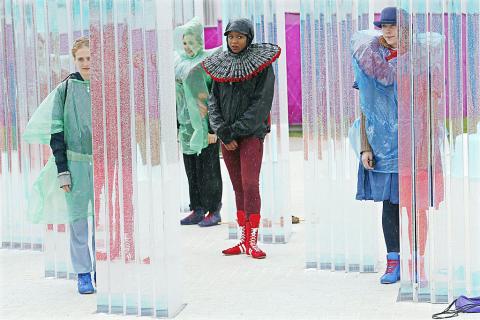 Performers from the National Youth Theatre wait for the start of a rehearsal at the Olympic Village in Stratford, east London, on Monday.
Photo: Reuters
"This is my first international competition," he said. "I might as well start big."
The village welcomed its first athletes on Monday, and Swiss and Belgian competitors had already draped flags over their balconies. French and Guatemalan medal hopefuls milled around the shopping plaza, as athletes from an estimated 40 countries checked in.
However, getting there had been tough.
Volunteer drivers from Scotland, Northern Ireland and other parts of the UK — along with satellite navigation systems that did not include the address of the Olympic Village — turned what was supposed to be a seamless journey along clear "Games lanes" into an exhausting schlep through London congestion.
"Loads of us have never been to London before. It's great. We're like tourists," one Liverpudlian coach driver confessed.
Tom Pukstys, a coach with the US, described how he and 25 other members of the team who flew overnight to Heathrow from Chicago faced a four-hour drive across London when their Scottish driver got lost.
"I was watching the satnav and it was telling us to go one way, then another. It was the first time he [the driver] had made the trip. If you are going to competition and get lost that would be devastating, but that's not going to happen," he said.
Two-time world 400m hurdles champion Kerron Clement tweeted: "Um, so we've been lost on the road for 4 hrs. Not a good first impression London. Athletes are sleepy, hungry and need to pee. Could we get to the Olympic Village please."
The team's spokesman, Patrick Sandusky, said there had been "some limited challenges for some of our athletes traveling from Heathrow to the Olympic Village," but he commended the organization, saying "one bus trip doesn't detract from that a bit."
After a 23-hour flight, Australia's sailing team had a scare when they briefly lost track of their sails at Heathrow, then they had to wait two hours for a bus. It took a further two hours to get to the Olympic Village, taking in Big Ben and Westminster Abbey as the driver got lost.
"The driver didn't know where he was going and hadn't been told how to use the satnav," Australian official Damian Kelly said. "He was on his walkie-talkie, we were on the phone to the Olympic Village getting directions and some of us were trying to guide us in using Google. Look, these things happen. We're just glad it happened now and not in the middle of competition."
It was an embarrassing case of life imitating art.
The BBC TV satire on the Games organizers, Twenty Twelve, had included a story where an official bus driven by a Nottingham man who did not understand his satnav got lost. Yesterday, a spokeswoman for the real London organizing committee was keen to play down the problem.
"It is day one and we have only had one or two issues where journeys have taken longer than planned," she said. "The vast majority of journeys have been fine."
Scudding gray rain clouds and strong winds meant the village, which will house more than 11,000 athletes from 204 countries, struggled to feel as festive as it surely will, but spirits remained high.
US 400m champion, Tony McQuay, tweeted: "I don't think I want to leave the UK sorry US lol but I'm loving how they build this village for us to stay in ... Wow!"
British athletes were rallied with a speech by Dame Kelly Holmes and soccer player Jack Butland, 19, tweeted: "Loving this experience already."
Even Kerron Clement appeared to have cheered up.
The athlete tweeted later: "Eating at the Olympic Village. Love the variety of food choices, African, Caribbean, Halal cuisine, India and Asian and of course McDonalds."
Comments will be moderated. Keep comments relevant to the article. Remarks containing abusive and obscene language, personal attacks of any kind or promotion will be removed and the user banned. Final decision will be at the discretion of the Taipei Times.