Schild wins fourth straight World Cup slalom
Marlies Schild won her fourth straight race in women's World Cup slalom skiing on Thursday, while 16-year-old Mikaela Shiffrin of the US placed third to become the youngest female racer on a World Cup slalom podium in 33 years.
Schild, who now has a career tally of 31 victories in the discipline, had two flawless runs to finish in an aggregate 1 minute, 51.42 seconds and beat second-place Tina Maze of Slovenia by 0.79 seconds.
Shiffrin started her eighth World Cup event as No. 40, ended the opening run in 12th position before posting the fastest time in the final run.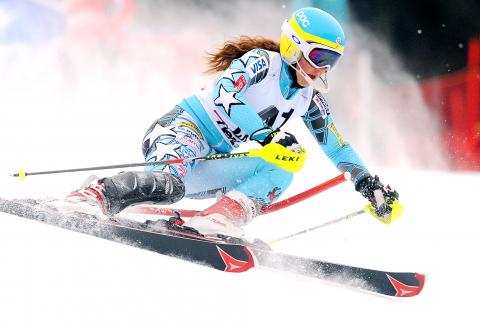 Mikaela Shiffrin of the US competes to take third place in the women's slalom in the Alpine skiing FIS World Cup in Lienz, Austria, on Thursday.
Photo: AFP
She finished 1.30 behind Schild, who lost 0.24 to Shiffrin in the final run.
Shiffrin, who became the youngest US national slalom champion last spring, impressed with an all-attacking yet error-free second run, in which she made many turns extremely close to the gates.
"I have been working so hard for this moment," said Shiffrin, who finished eighth in the Aspen slalom last month.
"Schild, Zettel, Hosp, Vonn; I have been watching all these top girls for the past 10 years. And now I am here myself, it really feels crazy," she said.
Shiffrin made her debut on the World Cup just before her 16th birthday last March, starting in two World Cup races in Spindleruv Mlyn, Czech Republic.
For now, she's only focusing on slalom and giant slalom, leaving the speed events for later.
"I have learned something from so many racers," she said. "From Marlies, getting her 31st win here. From Lindsey, with so many wins in all the disciplines. From the whole US team, with all their energy and the positive attitude."
Accompanied by mother Eileen, who also helps the high-school student with her homework, Shiffrin lives in an apartment near Soelden, Austria, the US team's training base in Europe.
While Shiffrin stepped on to the podium for the first time, the 30-year-old Schild equaled Vreni Schneider's record with her 47th World Cup slalom podium.
Shiffrin said she was impressed by meeting Schild, one of her idols.
"It's the first time I've been talking to Marlies in person," Shiffrin said. "I couldn't believe she was congratulating me after the race. What a moment!"
Schild was just as excited by the teenager's performance.
"Of course I saw her in Aspen, she's a real talent," Schild told reporters.
"I see a lot of myself in the way she is skiing. She has all what it takes to become a great champion in the near future," she added.
While Shiffrin made her first podium appearance, her teammate Sarah Schleper retired after 15 years on the circuit.
"This is so special for the US team," Shiffrin said.
"Sarah has been an unstoppable force for so many years. She's so positive, she loves racing more than anybody, and she has brought so many people into -skiing," Shiffrin said.
Schleper, in a recent interview with The Associated Press, said: "Mikaela wants to be the best skier in the world as soon as she can ... She is capable of great things."
US teammate Lindsey Vonn came 18th and retained the lead in the overall standings.
The three-time champion has 612 points, followed by Schild with 440 and Austria's Anna Fenninger, who usually skips slalom, with 368.
Defending overall champion Maria Hoefl-Riesch of Germany had costly mistakes in the steep final part of both her runs and -finished ninth, 1.99 behind Schild.
In the overall standings, Hoefl-Riesch is fifth with 326 points.
After a solid first run, Vonn lost speed and time going into the final section of her second run, finishing 3.01 off the lead.
Vonn has not managed to appear on a slalom podium for more than two years.
"It's getting closer [to the podium]," she said.
"I am hoping to get back in the [starting] top 15 and that will help a lot," she said.
After a short break, the women's World Cup will continue on Tuesday with another slalom event in Zagreb, Croatia.
Comments will be moderated. Keep comments relevant to the article. Remarks containing abusive and obscene language, personal attacks of any kind or promotion will be removed and the user banned. Final decision will be at the discretion of the Taipei Times.