Adriano injures woman in shooting, reports say
Brazilian international striker Adriano has accidentally shot a woman in the hand with a gun belonging to his bodyguard, according to reports in Brazil on Saturday.
The player, 29 and now plying his trade with national champions Corinthians, left a party in the Barra da Tijuca district to the west of Rio de Janeiro with three young women and his bodyguard.
He was reportedly fooling around with the gun when he accidentally fired a shot that hit one of the women, aged 20, police Lieutenant Tomas da Silva told CBN radio.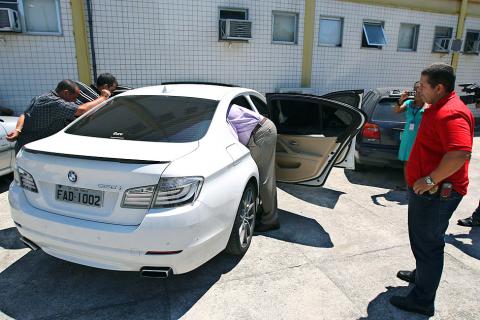 Rio de Janeiro police inspect the vehicle of Brazilian soccer player Adriano on Saturday after a 20-year-old woman alleged she was wounded after a gun accidentally went off inside the vehicle.
Photo: EPA
Da Silva added that Adriano did not turn himself in to police and that the woman was to have surgery on the injured hand on Saturday.
A four-time title winner during a spell in Italy with Inter Milan, Adriano's career has gone off the rails in recent times because of problems with his weight, alcohol and depression.
Last year, police in Rio de Janeiro decided not to press charges against the player for supposed dealings with drug traffickers, blaming a "lack of evidence."
Comments will be moderated. Keep comments relevant to the article. Remarks containing abusive and obscene language, personal attacks of any kind or promotion will be removed and the user banned. Final decision will be at the discretion of the Taipei Times.